Patrick denies NASCAR deal in place
| | |
| --- | --- |
| By Diego Mejia | Saturday, June 4th 2011, 06:00 GMT |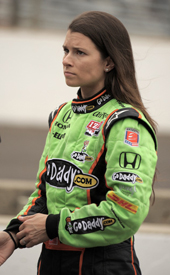 Danica Patrick insists she has not made a decision about her plans for 2012, amid reports of an imminent announcement that she will move to NASCAR next year.
Speculation continues to mount on the future of the IndyCar star, who returns to the NASCAR Nationwide Series this week, racing for JR Motorsports at Chicagoland Speedway on Saturday.
Patrick, who led 10 laps on her way to 10th place in the Indianapolis 500 last week, set a new record for the highest finish for a female driver in NASCAR when she claimed a breakthrough fourth place at Las Vegas in the second-tier series earlier this year.
Despite her clear progress during her second partial season in NASCAR, Patrick told reporters at Chicagoland on Friday that a decision has yet to be made on what her 2012 plans will be, and that an announcement may only come after the end of the season.
"There isn't a decision today, there's no announcement today, and there probably won't be for many months," said Patrick. "This is the kind of thing that takes a lot of time and I don't really know exactly what is going on at this time.
"I've just been told to do my job in the racecar and drive as fast as I can and get the best results that I can possibly get and that only helps things.
"So that's what I'm going to do. Traditionally for me this contracts don't get announced until after the season ends."
Dale Earnhardt Jr, whose team fields Patrick in the Nationwide Series, said last week at Charlotte that he would like to see her make a full-time move to NASCAR, and believes she is ready to make the jump if she wishes to do so.
"We'll just see what she decides to do," said Earnhardt. "I think she wants to have more success and doing it all the time would be a good move. She just has to choose what she wants to do. What is right for her. What she thinks she will be happy doing. Just make the right choice for herself, that is what is important.
Earnhardt added: "She has been racing with us enough to know whether she is ready or not. It is really up to her. It is really not up to anybody else. My opinion on that deal really doesn't matter. She is the one who knows the truth and she'll make the decision I think she needs to make and that will be that."
In an interview with America's USA Today, the CEO and founder of GoDaddy.com Bob Parsons, whose company sponsors both Patrick's IndyCar and NASCAR programmes, said the full-time move to NASCAR would be a logical one, although he would expect her to still compete in the Indianapolis 500.
"Given what she's done in the Nationwide races she's run, and given where she is in her life and what her plans are, I think the move to NASCAR makes a whole lot of sense," Parsons said. "It would be a wonderful thing for her and more wonderful for NASCAR."
Patrick currently ranks 15th in the IndyCar Series where she drives for Andretti Autosport, her best result being a seventh place in Long Beach.