| | |
| --- | --- |
| Pedrosa forced to miss Barcelona race | |
| | |
| --- | --- |
| By Pablo Elizalde | Wednesday, June 1st 2011, 13:55 GMT |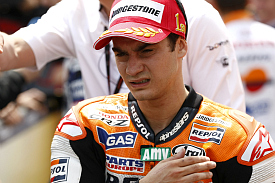 Dani Pedrosa will not be racing at the Grand Prix of Catalunya this weekend after not having recovered from his injury on time, his Honda team said on Wednesday.
The Spanish rider broke his right collarbone after crashing during the French Grand Prix while fighting for position with Marco Simoncelli.
Although Pedrosa was hoping to be fit enough to return to action in his home race this weekend, due the bone healing slower than anticipated he has been forced to follow a more conservative treatment that will mean he will have to sit out the event.
"After France, I had surgery to stabilise the fracture of my right collarbone and hoped to be ready for Barcelona," said Pedrosa. "I pushed myself as best as I could but I feel that my collarbone is not yet ready. I think I must rest for a while and recover properly.
"Since early this year I've had many problems and operations and I really believe I must stop now and let this heal properly. I would love to be in Montmelo with all the fans that follow me but for me if I'm on track, I'm there to fight for victory and offer them a good race.
"I feel that is not possible at the moment and therefore the most sensible thing is not to compete. It is a big shame what happened."
Honda said the timetable for Pedrosa's return to racing will depend on how the injury heals from now on.
The next race takes place next weekend at Silverstone.