Pirelli making no predictions for Canada
| | |
| --- | --- |
| By Jonathan Noble and Pablo Elizalde | Tuesday, May 31st 2011, 13:18 GMT |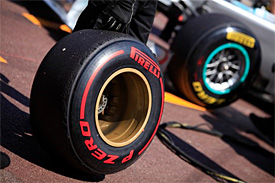 Pirelli's motorsport boss Paul Hembery says it is impossible to predict how tyres will behave during the Canadian Grand Prix next week.
With the Montreal circuit being a mixture of street circuit and permanent road course, Hembery believes there is no way to make a prediction about the performance of the rubber, although he reckons the degradation will not be as aggressive as many people expect.
The tyre manufacturer will take to Canada the same compounds it used at Monaco, the soft and the super soft.
"Tyres are a strange thing," Hembery told AUTOSPORT. "If they are too hard, and they don't provide any grip, then they can wear much faster.
"The reason we are going super soft and soft is that you want to have grip from the tyre, if you go with something too hard then you end wheel-spinning, tyres grain and they get consumed even quicker. I know it is a strange conundrum and a lot of people are thinking Montreal will be very aggressive but probably not.
"We've never run there. I have a pretty good idea here, I have been to Montreal. I've seen the track, I've walked it, but I am not going to make a prediction. We want to see what happens in first practice. It is impossible to predict."
Hembery said Pirelli had received a lot of positive feedback following the debut of the super soft tyre in Monaco, which he labelled as an intriguing race.
"I have to say it was intriguing for us here to sit back and see," he said. "Probably the most intriguing race so far. Probably not the most exciting in terms of overtaking on circuit, which was Shanghai, but in terms of strategy it was absolutely fascinating because the other element with pitstops was they were trying to play on position.
"We had tremendous comments back. The British public have been very complimentary, but people didn't like the red flag and the change of tyres. That is the one thing that with my fans' hat on is one thing we come back and say 'huh?'"
He also said Pirelli has no plans to alter the four compounds it has at the moment during the rest of the season.
"We have to be careful, particularly when the championship goes forward and you get to the point where championships are going to be decided, so you have to do it based on some good know-how and knowledge.
"We haven't got any current plans to change anything going forward. We are keeping the four compounds we have got now unless of course we get to a situation where something clearly isn't working and we have to make a change."