Manager bullish over Kubica's progress
| | |
| --- | --- |
| By Matt Beer | Monday, May 30th 2011, 11:11 GMT |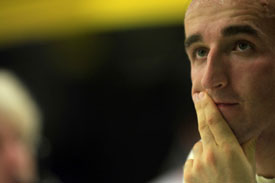 Robert Kubica's manager Daniele Morelli has echoed Renault team boss Eric Boullier's assertion that the Pole's recovery is going well enough that he could race again this year.
Last week Renault team co-owner Gerard Lopez told Spanish radio station Onda Cero that Kubica was unlikely to return in 2011, saying: "we'll probably get him to test on a Friday at some point during the year, but I'm sure his return is not possible this year."
But in Monaco Boullier insisted it was too early to make a firm comment either way on Kubica's prospects of a 2011 comeback, and Morelli vehemently denied that 2012 was now the more likely return date.
"I think you have to ask Lopez why he made such a statement that is in clear opposition to what the specialists are saying," Morelli told Reuters and Polish media.
"All the doctors, not only ours... are not writing off Robert for this season. I think that Lopez's statement is incorrect."
Morelli also ruled out Kubica making a tentative return in Friday practice, as mooted by Lopez, insisting that when he came back it would be to race.
"Robert when he will be back, he will be back for racing and there will be no need to make a control of his capability in a Friday session," he said.
"If Robert is sufficiently fit to drive a Formula 1 car for one lap he can do it for a whole weekend."
He added that it was highly unlikely that Kubica would visit the grand prix paddock at all until he was ready to drive again.
"He will come back when he will wear his overalls," Morelli said.
Kubica sustained multiple arm and leg fractures and a partial amputation of his right hand when he crashed a rally car on a national event in Italy in early February. He spent two months in hospital after the crash and has since continued rehabilitation at home - a process that Morelli said was progressing well.
"He's working a lot, we have a standard of five hours a day for the rehabilitation of the leg and of his arm," he said.
"There are no complications at this stage and we are forecasting August as the month when we will have a clearer idea of when Robert can be back.
"Altogether all the affected parts are improving, and there are no major risks at this stage like infections."