Ganassi pair puzzled by strategy
| | |
| --- | --- |
| By Matt Beer | Monday, May 30th 2011, 04:06 GMT |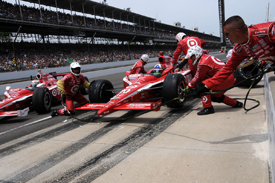 Dario Franchitti refused to criticise his Ganassi team over its strategy in the Indianapolis 500, while admitting that he did not fully understand how he had ended up 12th in a race he had looked set to dominate.
The defending Indy winner had led by as much as eight seconds at one stage, but pitted from the lead under yellow on lap 163. The intention had been for that to be his final pitstop, but he had to come in for another splash of fuel right at the end.
"I thought our Target car was as good as anything out there today," said Franchitti. "The engineers made good calls fixing the balance of the car. The mechanics, the pitstops were fantastic.
"And we're leading the race, and we came in to do that stop. But I don't know. I don't understand right now. They're going to have to explain that one to me."
He said he could not criticise the team's pit calls as Ganassi's strategy had so often paid off for him in the past.
"I'm disappointed with the result," said Franchitti. "I don't second-guess these guys. I only have a very narrow view of what's going on. They have the big picture. These guys have won me a lot of races and some championships, and I don't second-guess them."
Franchitti's team-mate Scott Dixon had also looked a likely victor for much of the afternoon, as the Ganassi duo led 124 of the race's 200 laps between them.
But he too had to conserve fuel at the end and fell back to sixth, which became fifth when race control looked again at the positions under the last-gasp yellow for JR Hildebrand's final-corner crash and decided to put Dixon back ahead of Oriol Servia.
"Between Dario and myself, we had this one pretty well covered," Dixon said. "This is one of those places where it's tough to win. We went on a bit of a run fuel-wise late in the race, and that's what paid off for us last year.
"We short-fueled, and why we short-fueled, I don't know. We stopped 10 laps later than anybody else on any strategy, there's no way we should run out of fuel.
"I definitely leave here thinking that I should have won my second 500."