Massa: More penalties for Hamilton
| | |
| --- | --- |
| By Edd Straw and Jamie O'Leary | Sunday, May 29th 2011, 16:49 GMT |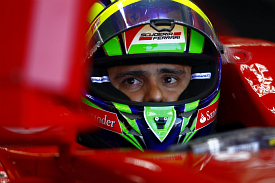 Felipe Massa has called on the FIA to issue further penalties against Lewis Hamilton following a collision between the pair during the Monaco Grand Prix.
Hamilton made contact with the Ferrari driver at the Loews hairpin on lap 34 as he tried to pass his rival on the inside of the corner, driving over the kerbs in the process and knocking the nose of Massa's car against the rear wheel of Mark Webber's Red Bull.
Massa retired after crashing in the tunnel seconds later, an accident the Brazilian said was due to damage caused by Hamilton - who was given a drive-through penalty for causing the incident.
"He tried to pass me on the kerbs [when] I didn't think it was possible to overtake," said Massa. "He was too aggressive, I think.
"Then when I got to the tunnel my car was damaged and I went on the dirty part of the track and hit the wall. What he did today was unbelievable. Not just with me, but with other drivers as well.
When asked by AUTOSPORT whether further sanctions were needed in a bid to calm Hamilton's driving, Massa said: "Yes. I think he needs to be penalised again, and in a good way – otherwise he doesn't learn.
"They [the FIA] need to think about something for him, or he will not learn."
Hamilton, who finished sixth on-track, was later given a 20s penalty in place of a drive-through for colliding with Pastor Maldonado's Williams with four laps to go. It did not affect his finishing position.
When asked whether he thought Hamilton was the most problematic driver to race against in Formula 1, Massa replied: "Maybe he is the one spending the most [time] with the FIA [stewards]. I don't know."