Vettel says 'risky' strategy his call
| | |
| --- | --- |
| By Jonathan Noble and Pablo Elizalde | Sunday, May 29th 2011, 15:17 GMT |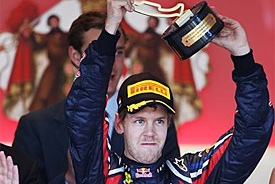 Sebastian Vettel admitted he opted for a "risky" one-stop strategy because he was determined to try to win the Monaco Grand Prix.
The championship leader decided to stay out while his rivals pitted during the opening safety car period, the German having to do a 56-lap stint on a set of soft tyres.
In the end, his cause was aided by the race being stopped with six laps to go, as he was allowed to fit new rubber to go the distance when Fernando Alonso and Jenson Button were right behind him with fresher rubber.
Vettel said the decision to not stop was his, as he thought it was his only chance to win the race.
"It is fantastic," said Vettel. "It was a very long race and a long way to the chequered flag and at some stage the victory seemed quite far away.
"The safety car came out and we got back in the lead but it was quite difficult to stay ahead. It is difficult to pass here but they had such better grip. I called to box and I said I wanted to stay out as it was the only chance to win the race.
"It was getting close and with six laps to go before we had a suspended race. Obviously I was struggling with my tyres but I think we could have made it to the end.
"Then I saw the red flag and it was good to hear Vitaly was fine, and we were able to change tyres as I could get rid of these old tyres and then had another short sprint race to the chequered flag.
"We took the risk. We wanted to win and we got the reward. I am happy and it is an extreme honour. It is one of the best grands prix all year and surely a nice one to win."
The world champion also conceded it would have been very hard to beat McLaren's Button if not for the first safety car period.
"I think at the end of the day, surely if there had been no safety car it would have been difficult to beat Jenson as he was so far ahead, but there was a safety car. We have been looking after our tyres, even under pressure.
"I had a race here two years ago where my rear tyres were gone. I stayed ahead of Felipe a long time, but then they found their way past. We learned from that. So last year the car was good, and this year it was good enough to win. I am very happy."
Vettel, who has won five out of six races this year, is now 58 points ahead of Lewis Hamilton in the standings.