Alonso: Grid not representative of pace
| | |
| --- | --- |
| By Pablo Elizalde | Saturday, May 28th 2011, 16:06 GMT |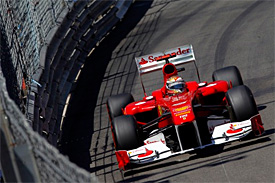 Fernando Alonso believes the grid for the Monaco Grand Prix does not represent to true pecking order, as he reckons Lewis Hamilton should have been on pole.
Several drivers were hindered by the stoppage caused by Sergio Perez's crash with over two minutes of the session remaining.
That meant their final runs were not fast enough, and drivers like Hamilton were unable to set a significant time.
Alonso, who qualified in fourth, reckons the Briton, seventh today, was favourite for pole.
"In qualifying I did not have as good a feeling from the car as I got in free practice and we need to work out exactly why," said Alonso.
"Today, McLaren were very quick and I think Hamilton was probably favourite to get pole. I don't think the result of Q3 represents the true order because the red flag mixed up plans for many of the drivers.
"For Hamilton it went badly, while everything was fine for Red Bull, with us at a halfway point: we should have done two runs of two timed laps each without refuelling and therefore, we did not get the most out of the tyres."
The Ferrari driver believes overtaking will be "pretty much impossible" at Monaco despite KERS and DRS, with the Spaniard expecting drivers to try to do just one stop in the race.
"I reckon that tomorrow, overtaking will be pretty much impossible, despite the KERS, DRS and whatever else," he said. "The start will be very important and our race pace is good, so I hope I can make up some places, also making the most of any unpredictable situations and of our strategy.
"I expect some drivers will try for two stops and maybe others will risk doing only one. The car is handling better than a week ago at the Catalunya circuit: the balance is fine and the super softs are working well."
Team-mate Felipe Massa qualified in sixth and the Brazilian admitted he was not thrilled with the result.
"Starting sixth is not brilliant at Monaco but here you need to use your head in the race: we will have to concentrate throughout as anything can happen," he said.
"The start will be very important, but so too will be staying calm and cool-headed, lap after lap, because any mistake can cost you dear. Tyre degradation is less than we have seen before, so I don't think there will be so many pitstops."