Bayne set to return next week
| | |
| --- | --- |
| By Diego Mejia | Thursday, May 26th 2011, 07:49 GMT |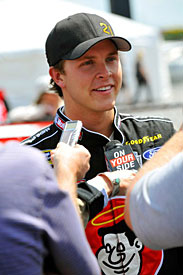 Roush Fenway Racing has delayed Trevor Bayne's NASCAR Nationwide Series return by another week and now expects him to race again on June 4 at Chicagoland.
This year's Daytona 500 winner continues to recover from illness and successfully tested a Nationwide Ford at Virginia International Raceway on Tuesday.
According to Roush Fenway president Steve Newmark, Bayne no longer shows symptoms any more and successfully tested a Nationwide Series car at Virginia International Raceway last Tuesday.
Newmark said that the reason to further delay his return is caution, and, that he expects him to return to the wheel of the #16 Ford in NASCAR's second-tier series next week.
"By all standards Trevor had a great week," said Newmark. "His symptoms have completely subsided. He tested at Virginia International Raceway on Tuesday, had one of the fastest Nationwide Series cars on the race track and his team was extremely pleased with his progress.
"As a result, we plan to have him back in competition next week in Chicago, and have consulted with his doctors at the Mayo Clinic and the NASCAR medical staff about that timetable.
"Of course, Trevor is a competitor and he wanted to be back on the race track this weekend. However, we feel it is in his best interest for us to exercise an abundance of caution with this matter and withhold him from racing this weekend; especially considering the length of the races and the fact that Trevor is just starting to get back into his daily routine.
"Although Trevor would have preferred to compete in all 900 miles this weekend, he respects and understands our decision and will shift his considerable focus to his return at Chicagoland next weekend."
Bayne, 20, was initially scheduled to return this week after sitting out the last four Nationwide events as well as the NASCAR All-Star race, which he was entitled to enter thanks to his Daytona 500 victory.
He was listed to compete in both Nationwide and the Sprint Cup this weekend at Charlotte, but will now be replaced by Matt Kenseth will fill in for him in the former event while Ricky Stenhouse Jr, fresh from his maiden Nationwide victory at Iowa last weekend, will make his Cup debut at the wheel of the #21 Wood Brothers Ford for the 600-mile race at the circuit.
"We can't wait to have Trevor back with us, but we can't think of a better driver to fill in than Ricky," said Wood Brothers co-owner Eddie Wood. "Ricky has been doing an outstanding job in the Nationwide Series. Like Trevor, he is definitely one of the up and coming drivers in our sport and we are happy that he accepted the offer to step in before Trevor comes back for our next race."
Four weeks ago Bayne was hospitalised with symptoms initially believed to be a consequence of an insect bite that had already forced him to visit hospital following the Cup race at Texas on April 9.
Tests performed at the Mayo Clinic later pointed at an "inflammatory condition" as the cause of his symptoms, but no further details of his illness have been disclosed since then.