Drivers back tunnel DRS ban
| | |
| --- | --- |
| By Edd Straw | Wednesday, May 25th 2011, 17:47 GMT |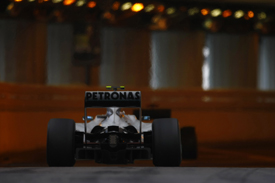 Formula 1 drivers have backed FIA technical delegate Charlie Whiting's decision to ban the use of the DRS in the tunnel during the Monaco Grand Prix weekend.
Discussions had been held concerning the possibility of banning the DRS entirely, but despite a majority of drivers agreeing to the proposal, its use was not outlawed.
The DRS can be used during Sunday's race, where the activation zone will be on the start/finish straight. However, concerns about the safety of its use through the high-speed right-hand corner that runs through the tunnel forced the decision that it should not be opened there during practice and qualifying.
Former world champion Jenson Button has suggested that using the DRS in the tunnel would inevitably lead to accidents.
"It was necessary," said Button of the decision. "The tunnel is a very slippery place with a lot less grip than the rest of the track and marbles bouncing off the barriers and coming back onto the racing line.
"The first person that tried to use DRS in the tunnel was going to put it in the wall. It's a very good idea. It's not going to help overtaking through the tunnel and it's pointless having it. It's an unnecessary danger."
Rubens Barrichello, who has spoken out about the dangers of the DRS in the tunnel before, also backed the decision. He has no concerns about the DRS being used in other parts of the track.
"It was very wise of the FIA to use the DRS, but not in the tunnel," said Barrichello. "We've got to try to overtake, for sure, and there are differences in speed that might make it possible.
"It is very very narrow [in the tunnel]. We've seen in the past people trying to overtake and just crash into each other. I think we need to learn. I'm very happy with the decision that we are not going to be using DRS in the tunnel. The rest of the track is fine."
Renault driver Vitaly Petrov suggested that the danger of using the DRS in the tunnel could have triggered multi-car accidents, with a driver following another car that loses it in danger.
"I think it's a good idea because the tunnel is flat. It's not an easy flat corner, but definitely some people will try to do it flat with the DRS.
"Can you imagine a car crashes and you are behind. It would be a big mess."