Super softs an unknown for F1 drivers
| | |
| --- | --- |
| By Jonathan Noble and Pablo Elizalde | Wednesday, May 25th 2011, 14:10 GMT |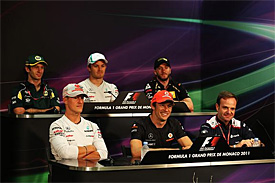 Formula 1 drivers admit the Monaco Grand Prix will be a wide open race due to the uncertainty about the strategies for the event.
For the first time this year, drivers will be using the super soft tyre during the weekend.
The rubber, which was tested during the winter, is an unknown for all teams, who are unsure about how well it will hold at the Monte Carlo circuit.
McLaren driver Jenson Button conceded getting the strategy right will be very difficult this weekend.
"I really haven't got a clue," said Button during Wednesday's press conference. "We have not run the super soft for a long time, and we haven't run it with the existing tyres. But sure there will be a huge amount of degradation on the super soft.
"Strategy wise it is very difficult to work out what to do. To pick up the right strategy and get into race situation. Here it is going to be up in the air, you really have to think on your feet in the race, whether there is degradation or not."
Williams's Rubens Barrichello admitted the performance of the super soft tyre is a concern after drivers were not happy with it during the winter.
"We really have to wait and see. The super soft was not on the right track when we tested it in Valencia, Jerez and Barcelona. There it was lasting one lap but you have more grip there so you use it harder.
"We have to wait and see. Obviously we might have a reading on Thursday but on Saturday we might have a different reading because the rubber will have come back up."
Michael Schumacher also believes the race will be wide open due to the difficulty to get the strategy right.
"Due to the very different strategies that we apply this year compared to previous years, from my point of view I have no feeling or understanding whether our car will suit this track any better than other tracks. So it will be completely open," he said.
The drivers also backed the way qualifying is working this year, despite the need to save tyres leading to less running.
"I think it is good," said Schumacher. "It is only one lap because the tyres are only good for one lap. I don't think it is a big difference."
Button added: "People are saving tyres so much these days that you are only running once. You are not chucking tyres at the car. Last race we did three runs in Q2/Q3, one lap in each session. I think it is a good system."