Pirelli: Two stops feasible in Monaco
| | |
| --- | --- |
| By Jonathan Noble and Pablo Elizalde | Tuesday, May 24th 2011, 11:11 GMT |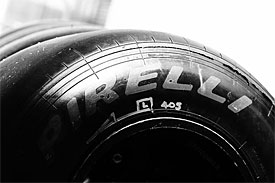 Pirelli motorsport boss Paul Hembery says two-stop strategies should be feasible in the Monaco Grand Prix, despite the use of the supersoft rubber.
The Italian manufacturer is bringing the supersoft tyres to the Monte Carlo race, where the rubber will make its racing debut this year.
Despite the high level of degradation seen in this year's tyres, however, Hembery is hoping to see drivers stopping just twice during the race, playing down fears of a record number of pitstops this weekend.
"Monaco is one of those circuits where, if you have slip and wheelspin you are in difficulty," Hembery told AUTOSPORT about Monaco's strategy.
"That is often what you get in slow speed corners and you accelerate and get slip so you get a lot of grip from the tyre which is why we went super soft and soft, and pretty similar as to why we have gone that way for Canada.
"If you go with a tyre that is too hard and it is not giving you an advantage from the compound you do get wheelspin and you get excessive consumption of the tyre and that probably for the public is hard to understand as the hard is going to resist more, no matter what you do to it.
"But it is more complex, it is also related to how much wheelspin you get.
"We would like to see a two-stop strategy and based on Melbourne that should certainly be feasible on a low-speed circuit, although Melbourne doesn't have the really tight corners that it has at Monaco, so it will all be related to how much wheelspin we get and we will only see what when we get there."
Hembery also emphasised that drivers will need to nail their qualifying laps if they are going to extract the best from the tyres, as he admits its peak performance will last only one lap.
"The peak of performance is definitely one lap. It will have that characteristic of a qualifying tyre so you will want to put in your best lap straight away and it will be a fast-wearing tyre.
"That is part of the plan, but I have to wait and see what it does in Monaco as I don't want to make a prediction because we have never been there with it. It is not going to be a 15-20 lap tyre for sure."
And the Briton said he is not expecting drivers to save tyres by sacrificing their qualifying this time out.
"I think that won't happen because they will be qualifying on the tyre they have less sets on, so that changes around," he said. "The faster tyre has been the soft one so they want to preserve as many as possible as they have one set left.
"Now with the advent of the new hard tyre that we see here, the new PZero, initial indications are it degrades less and it gives more laps than soft tyre so it takes away that disadvantage where hard didn't give big difference in terms of wear. So you can consider one pitstop left."