Mercedes admits it needs improvement
| | |
| --- | --- |
| By Jonathan Noble | Tuesday, May 24th 2011, 08:52 GMT |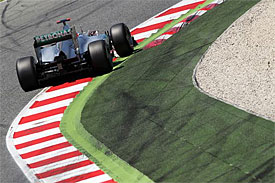 Mercedes GP needs to bring bigger improvements to its car if it is going to launch a serious challenge against the front-running Red Bull Racing and McLaren teams later this year.
That is the view of Mercedes-Benz motorsport boss Norbert Haug, who thinks that although the outfit has struggled to consistently get the best out of its package, it must not ignore the fact that it needs to deliver a faster car.
"I think speed wise we should have a better potential I would say," Haug told AUTOSPORT. "The positions were what we could achieve in Spain, and that is okay. But the speed needs to be improved.
"Our first job should be to check whether we extracted in Spain what was possible. I think there is more in the car, and there are specific race tracks, like in Turkey and in China particularly, where we looked very competitive compared to the competition.
"We were not fantastic but we were much closer, much better - and I am not closing my eyes in front of the fact that we need to improve. We need to do that, and stick together as a team.
"These are not [just] words. Ross [Brawn] is such an experienced guy, and we have so many good and dedicated people in the team, they are working very hard, doing their best – but we need an upgraded technical package. That is what we are working on – and I think we have good possibilities to achieve that."
Despite his feelings about the improvements Mercedes GP need to deliver, Haug has high hopes for a good performance in Monaco this weekend – where the short-wheelbase W02 could excel.
"We were seriously fast in Monaco last year," he said. "Nico was first in Q2 with one attempt and the others tried two times. Then we got into traffic in Q3 in the later stages, when you have to run.
"In hindsight we should probably have put more fuel in, because you just need to keep going to find a free lap. Hopefully we can do similar things this year, but I cannot promise, I cannot judge. There are lots of cars and the driver is very important there, but if the car gives you confidence then a driver can make a difference."