Edwards, Roush still in contract talks
| | |
| --- | --- |
| By Diego Mejia | Tuesday, May 24th 2011, 05:38 GMT |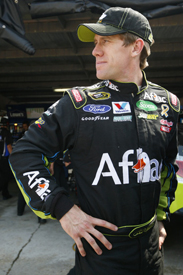 Carl Edwards says his focus remains on winning the NASCAR Sprint Cup Series title while talks with Roush Fenway Racing continue to unfold as his contract with the outfit expires at the end of the year.
Edwards claimed victory last weekend in the All-Star race, his first triumph in the event and his second win of 2011, albeit in a non-points race which gave him a prize of US $1,203,300.
He currently leads the Cup standings and although he is expected to stay put for an eighth season and beyond at Roush, an agreement has yet to be reached with his team.
Although seats at championship-calibre teams are not likely to become available for next season, Edwards' market value continues to increase as he enjoys arguably his best ever start to a season.
"All I'll say about that is we're running really well right now and it's because of Jack Roush, Ford, all these people's hard work," said Edwards about his contract situation following his All-Star victory. "Those talks are going on behind closed doors and we'll hopefully get something done. But right now we're running well and that is fun.
"What I'm trying to do is focus on that because we have a championship to win this year. That's the number one goal."
Roush praised Edwards while hinting that salary was a key part of the ongoing contract renewal discussions.
Roush Fenway Racing has been a dominant force at intermediate tracks this season, the team having won at all mile-and-a-half ovals where the series has competed thus far in 2011.
Alongside Edwards' dominant showing in the All-Star race, Roush Fenway drivers led at the end of the every segment of the night, including David Ragan's win in the Sprint Showdown ahead of the main event.
"Well, Carl is a rock star," said Roush. "He's the only back-flipper in the field. He's the first one to crawl up into the stands. Some of the drivers wouldn't go up in the stands like that after a race, and for good reason. But Carl, he's well thought of and he's out there doing things that other people wish they thought of first, and he drives the hell out of our racecars."
Speaking about their contract talks, Roush added: "I think Carl said it best. We're trying to maintain the focus on keeping our season together. We want to put ourselves in the best situation we can to make a championship run, to be in the top 10, then make a championship run in the closing months of the year.
"It's going on behind closed doors. With some accuracy, I say I really don't do the money, I try to stay out of the money part of it. But I will have to pay attention to this deal as it gets closer. It's not something that we're going to debate or discuss in the public. It's not a media issue, it's a private business issue that's ongoing."
Besides his Cup duties with Roush Fenway Racing, Edwards competes for the team in the Nationwide Series where he has won three races for the outfit this season.