Servia sure of very strong race
| | |
| --- | --- |
| By Matt Beer | Sunday, May 22nd 2011, 11:38 GMT |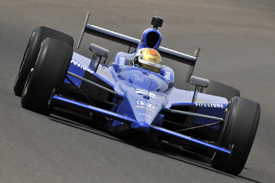 Oriol Servia says he is very confident for the Indianapolis 500 after putting his Newman/Haas car on the front row - as he had suspected qualifying would be tough for the team.
The Spaniard is extremely upbeat about his race pace, but did not believe he would be in the fight for pole.
"Six months ago, a month ago, Monday, I would have not bet we were going to be in the front row and that close to pole position," he said.
"We knew even before we started the week we were going to have a good race car because that's what the team always works on and always achieves. It always gives you good race cars. But at the same time we knew that over the winter we just didn't have the millions to go in windtunnels and find the last little bit of speed that you need in qualifying.
"So we thought if we were really lucky and conditions really set up we were going to be in the top nine. That was our maximum goal."
Servia said that having made it into the pole shoot-out the team had to debate whether to give it everything in a bid for pole or to conserve the car.
"Then when we were in the top nine, we had a bit of a conversation where we were like, 'well, let's not be too stupid here. We have a good race car, let's not crash it. Do we want to just be conservative? We go out there, we put a lap, same set-up, or do we go for it?'" he said.
"I just had such a good feeling in the other qualifying in the morning with the car that we just said, 'let's go for it', because it just really felt good.
"I told them after I finished my laps, no matter what happened - I didn't even know we were actually P1 at that moment - this is how you want to feel after a qualifying lap. It was just right on the edge but not one wiggle. It was just perfect. So they gave me a great car. I think we got all out of the car, and we got the best we could, and that was enough for a front row.
"That was enough to be faster than Dario [Franchitti], even before he had his little fuel hiccup, and to have the three Penskes behind in qualifying, which they are usually pretty good at this game, it just feels amazing and such a great achievement."
He added that the satisfaction of the qualifying result was even greater as his deal to return to Newman/Haas after a year on the sidelines was not even confirmed until the eve of the new season.
"Over the winter, we didn't know if we were going to start the season, and they still worked hard on the cars and prepared them not knowing within certainty," said Servia.
"Then [sponsor] Telemundo got on board, and it got better and just gave us more confidence, and we've been progressing since then. I've just been saying we haven't peaked yet, and it's just coming at the right time. I'm just super-happy, proud. Qualifying is about true speed. It shows it pays off, the hard work they've done."