De Silvestro admits crash shook her
| | |
| --- | --- |
| By Matt Beer | Sunday, May 22nd 2011, 11:29 GMT |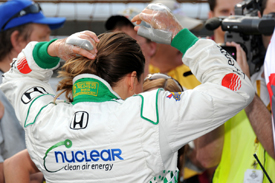 Simona de Silvestro admitted she had second thoughts about getting back in the car for Indianapolis 500 qualifying after her ferocious practice crash, but was glad she made the decision to continue after qualifying 24th.
The HVM driver sustained burns to her hands when a suspension failure sent her into a fiery, aerial accident on Thursday. She was cleared to return to the track yesterday and managed to qualify the team's lower-spec back-up car in 24th.
"My body's shaking. I was pretty nervous out there," she said. "A day ago, I wasn't sure if I wanted to get back in the car. I was really freaked out about it. But I think I made the right decision to get back in, and the doctors have taken really good car of me.
"After the crash, I was like, 'I don't need this. This is too crazy. It's way too dangerous.' After a while you're back to being a racecar driver and thinking, 'Nah, I can do this.' And you suck it up.
"This morning, I felt pretty good. Then I went to qualify and thought, 'Ah, I'm not too sure about that.' And especially when you're sitting [waiting to go out] and they're showing your crash on the screen. It's like, 'really? Thanks...'
"But it's great, the crowd, too. They've really lifted me up yesterday and today. Because of them, I really want to do something well here."
De Silvestro said her injuries were painful but manageable.
"They're alright now. They're a little sore, because the skin is pretty tight," she said. "We haven't really worked on them yet. We'll see if they want to do that tonight or wait until tomorrow. But they've taken really good care of me. It just looks really gross right now."
Although de Silvestro should be safely in the field having qualified 24th yesterday, under Indy 500 rules it is the driver with the slowest qualifying speed that is in danger of being 'bumped out' rather than the driver in 33rd position. So the drivers trying to qualify today log faster speeds than de Silvestro managed to take 24th yesterday, she could still be in jeopardy.