Power: Car wasn't quick enough
| | |
| --- | --- |
| By Matt Beer | Sunday, May 22nd 2011, 11:15 GMT |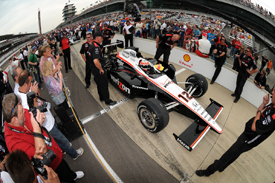 IndyCar championship leader Will Power admitted that his Penske team just did not have the speed to fight for pole in yesterday's qualifying session.
The Australian will start fifth, still far better than his team-mates Helio Castroneves - who was only 16th - and Ryan Briscoe, who was not quick enough to make it into the top 24 after crashing in practice.
Power said there had been nothing specific wrong with his car, just that others such as surprise polesitter Alex Tagliani were too quick for Penske.
"That car was solid all day. And I was pretty trimmed out, so I don't know what else I could have done," he said. "We just didn't have the speed. But happy to be on the second row. As far as the team today, we didn't do that well. We were probably a little bit surprised.
"But it's a long race, and yeah, congratulations to Alex Tagliani. He deserves that. He's a very good driver, and I'm very happy for him."
Power added: "I have to say, we were all probably caught a little bit unawares that the competition had become a lot tougher. We're hoping our race cars are good."
Castroneves had a disappointing first run, and then ran out of time to make a second attempt as rain arrived in the final minutes of the first part of qualifying. His 16th place is his worst Indianapolis grid position, though he won from 13th in 2002.
"The track definitely changed for us from yesterday to today; the same for everyone. The wind was a big factor," he said. "We went a little bit conservative this morning. We started pushing, and it wasn't quite the way we expected.
"So we decided to go back like yesterday when we were very solid; great. But all of the sudden, we were just 225.2mph. The gear wasn't pulling the speed we wanted.
"So it's a big question mark. You know, it is what it is. It's one of those things. We took a chance to be a little bit more conservative, and it didn't pay off. But, hey, it's not always that we get it right."
Briscoe's qualifying day was spoiled by a heavy crash in morning practice that forced him to switch to his spare car. He was confident it would be possible to get the back-up machine into the field had there been more time to fine-tune it.
"We need to go back to the set-up pad and just set everything down," he said. "It's been such a rush since the crash and just being able to get the car on track and participating. We need to look at all of the numbers on the car and see where we sit."
The Australian has another chance to qualify in today's Bump Day session, in which up to 16 drivers will fight for nine final spots on the grid.