Schumacher: Success a matter of time
| | |
| --- | --- |
| By Matt Beer | Sunday, May 22nd 2011, 10:16 GMT |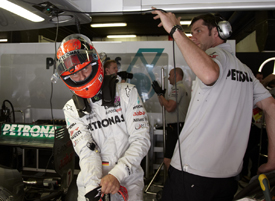 Michael Schumacher is convinced that he and Mercedes now have all the ingredients they need to be successful in Formula 1 and remains utterly confident that his squad can be a title-winner.
Although Schumacher's second season back in F1 has so far not seen much improvement over his difficult comeback year, he says more progress has been made than the results suggest.
"Probably last year I wasn't where I wanted to be," he admitted in an interview with the official F1 website. "But this year I would say nothing is missing. All ingredients for success are here - we now to have arrange and optimise them.
"Then we will be on the go, just like Red Bull is now. I know that we will do it."
Schumacher reiterated that he never expected Mercedes to immediately continue the results it achieved as Brawn in 2009, suggesting that he always knew the team's title success that year was an anomaly.
"Of course we would have wanted faster development - and a faster swing onto victory lane - after Ross [Brawn] had won both titles in 2009," he said. "But that was the exception to the rule. I have been racing long enough to understand that it takes at least three years to push a team to the very top.
"I know that good things come to those who wait. I am absolutely sure we are on the right track and that we are doing all we can to be successful in the end."
He also shrugged off the criticism his form this year has received.
"I am aware that there are many out there mouthing off about me, but I have been in the business long enough to know what is really important - to stay calm and work in a goal-oriented way on what we want to achieve," Schumacher said.
He added: "In reality everything happens so quickly in Formula 1. If I have a good race here, who cares about Turkey two weeks ago? You have to free your mind and not ponder what might have been. It is useless to look back. You have to concentrate all your energy on your goals."