De Silvestro cleared for practice
| | |
| --- | --- |
| By Matt Beer | Saturday, May 21st 2011, 12:19 GMT |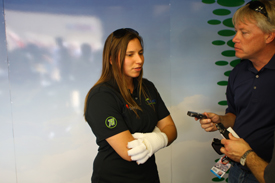 Simona de Silvestro has been cleared to drive in the initial practice session at Indianapolis this morning in order to assess whether her injuries have healed enough to allow her to participate in qualifying today.
The HVM driver sustained second-degree burns on the back of her right hand and superficial burns on her left hand and fingertips on Thursday when a suspension breakage sent her car into the wall and then into an aerial accident that ended with the Dallara-Honda upside down and on fire.
She will be re-evaluated by the IndyCar medics following the initial half-hour split group session this morning before finding out whether she has clearance to run in the following full-field practice and qualifying.
De Silvestro admitted yesterday that the injuries had to be taken seriously.
"They don't look pretty, so I don't want to look. I can say I'm pretty lucky to be here," she said. "I can move my hands, but it is pretty tight because it pulls the skin. We'll get some gloves that can fit."
The Swiss racer, who also had a fiery crash at Texas last year, said the incident had been a very frightening experience.
"I hit the wall and it took forever to land, it seemed, and then it started getting pretty hot out there," said de Silvestro. "It was pretty shocking, actually, especially to be on fire. It's kind of weird because the fuel is splashing on you and you don't really know what to do. A lot of things go through your head, but you want to get out of the car as quickly as possible.
"It just shows how safe the car is. I don't think a crash like that in any other car I would be standing here. When I got out of the car, I couldn't believe it because it was so crazy being along for the ride and being on fire - again. I was pretty shocked, but it was nice to be standing.
"I don't think I was a good patient in the infield medical centre because I was in a lot of pain and I was screaming for water to cool my hands down. They took good care of me and then we went to the hospital, where they said it was second-degree burns."