Tagliani says pole is achievable
| | |
| --- | --- |
| By Matt Beer | Friday, May 20th 2011, 09:46 GMT |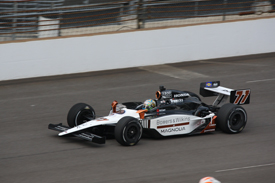 Alex Tagliani and Townsend Bell believe their Sam Schmidt Motorsports cars are good enough to mount a shock challenge for pole position at this year's Indianapolis 500, given their practice pace.
The duo were second and fifth on Thursday, with only the Penske drivers lapping faster, and Tagliani had been quickest of all on Monday.
The Canadian admitted that his best time yesterday had been helped by a tow, but remained confident that he had an extremely fast car for this weekend's qualifying sessions.
"That lap, I was behind Dario Franchitti, so I had a bit of a tow. But it shows that the car is quick and capable of doing it," he said. "I think we still have more to come. We just need to make sure that when it comes time to do it, we have the right balance."
Asked if he felt a pole challenge was realistic, Tagliani replied: "The way the car is running right now, for sure it is. I think we would be foolish to think that we couldn't do it. But the truth is that Penske and Ganassi have really good cars, and they know their way around this place. They have 10 times more experience than us.
"I'm sure by qualifying they're going to do something amazing to their cars, and all of a sudden they're going to be up to the top and we're going to end up fighting with them. But if that happens, that's okay. We should be proud that guys like Roger [Penske] and Chip [Ganassi] are looking at us, going, 'Why are those guys so quick?' That's kind of our mindset right now."
Tagliani and the team - then known as FAZZT before its winter takeover by Schmidt's multiple Indy Lights title winning operation - qualified fifth for last year's Indy 500, the best of the non-Penske/Ganassi cars.
Bell, who replied "I hope so" when asked if pole was his goal, admitted he would love to be able to match Tagliani's speed.
"Tagliani's car is a rocket ship," he joked. "Every time I walk past it in the garage, I sort of rub by it with my arm hoping some of that speed dust sort of rubs off on me... I think we're going to be okay."
Schmidt is also running the cars of Jay Howard and Ho-Pin Tung in collaboration with Rahal Letterman Lanigan Racing and Dragon Racing respectively.