Vettel not put off Ferrari by Alonso
| | |
| --- | --- |
| By Jonathan Noble and Matt Beer | Thursday, May 19th 2011, 16:20 GMT |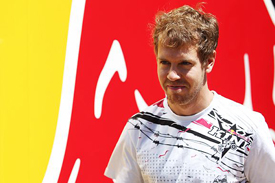 Sebastian Vettel says the fact that Fernando Alonso has extended his Ferrari contract through 2016 does not mean he sees the Italian team as 'out of bounds' until then.
The world champion emphasised that he remained happy at Red Bull Racing, but denied that Alonso's close relationship with Ferrari and preference for number one status would deter other top drivers from approaching the squad while the Spaniard was present.
"I don't think I ever said anywhere that the fact that maybe Fernando or Felipe [Massa] or any other driver drives for Ferrari means it is impossible to go there," said Vettel. "As far as I know, in Formula 1 teams have two cars...
"That will probably kick off some headlines now, but I am very happy where I am."
Vettel added that while Alonso's deal seemed unusually long, he felt many drivers would have taken such an opportunity.
"It's good for him, congratulations. I think it's an important step," said the German. "It's a long time from now onwards, and if he has the opportunity and he feels comfortable there then why not?
"I think all the drivers are feeling a little bit the same - if you feel in an environment where you feel welcome, you feel nice with the team and the guys."
But Vettel, who is contracted to Red Bull through 2014, said he had no interest in planning as far ahead as Alonso just yet.
"I'm not really thinking about these things too much and I don't think about where I will be in 2016. It's quite far away," he said.
"Really I'll go step by step and race by race, so next year's still quite a long way away. 2013... don't even ask, with all the new rules, so many things can happen. That's why it's very far away."