| | |
| --- | --- |
| De Puniet, Stoner resolve differences | |
| | |
| --- | --- |
| By Toby Moody and Matt Beer | Sunday, May 15th 2011, 16:18 GMT |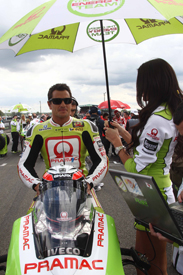 Randy de Puniet and Casey Stoner have exchanged apologies and agreed to put their Le Mans warm-up clash behind them.
Stoner struck out at de Puniet on track after the Pramac Ducati rider moved into his path while going significantly slower than the Honda in this morning's session. Race direction gave Stoner a 5,000 euro fine as a punishment for his actions.
De Puniet said it had been a simple misunderstanding and he had been trying to get out of the way at the time.
"I'm sorry about what happened this morning with Casey," he said. "I was adjusting the brake, thinking that I had no one behind.
"Then, suddenly, I saw Casey coming behind me at full speed, I tried to leave the road to him, but unfortunately I went where he was pointing.
"I'm sorry and even if his reaction was not the best, for me it's all put in the past and I have nothing against him."
Stoner said that while he was not happy with how de Puniet had been riding, they had been able to discuss the incident amicably.
"I went and spoke to Randy, and he apologised immediately," he said. "I then of course felt bad, so I apologised.
"I still wasn't really happy with the situation because when you're going over 200km/h and somebody else is going a lot slower - more than 100km/h slower - and at the last moment they pull across where you're going, it's not such a nice moment.
"The only way I had to go was there. You couldn't see it on the film, but two metres to my right was the edge of the track and the wall, so if something had happened then, it wasn't going to be the best option.
"I apologised to him, we spoke a little bit and we have no problems. And that was as far as it went. But we still got penalised for it..."