Ricciardo wins as Vergne penalised
| | |
| --- | --- |
| By Peter Mills | Sunday, May 15th 2011, 11:49 GMT |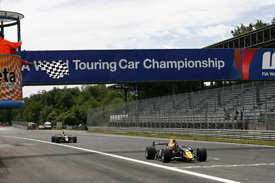 Red Bull Junior drivers Daniel Ricciardo and Jean-Eric Vergne staged an incredible, and ultimately controversial, duel for victory in Monza's second Formula Renault 3.5 race today.
Carlin's Vergne finished ahead on the road, but received a 10-second penalty during the race for cutting two chicanes. ISR driver Ricciardo picked up his first victory of 2011 as a result.
Both men were among a number of drivers to cut the first chicane in a chaotic start. Ricciardo's first corner lapse was more severe and the Australian lifted off to tuck in behind Vergne, who had lost the left flap of his front wing in contact with Saturday's winner Kevin Korjus (Tech 1 Racing).
Vergne drove superbly to maintain the lead in his damaged car until lap 11, when Ricciardo got fully alongside into the Roggia chicane. Running wheel-to-wheel and inches apart in the mid-corner, Vergne elected to cut the final part of the chicane to avoid contact, but in doing maintained his position.
"I think that was one of my best races ever, having [half a front wing] may have been quick on the straight but for sure we were having problems on the brakes," said Vergne. "Having this problem, plus my engineer telling me we had a 10s penalty, and having no idea why, was pretty hard.
"They told me I was penalised for twice cutting the chicane. The first time was not my fault, everyone was locking wheels, I broke my front wing, and there was no other choice. The second time I cut just a little bit the second chicane to avoid any problem with Daniel. I could have taken it but for sure we would have touched and both spun. For sure we will protest this."
Ricciardo's ISR crew informed him of Vergne's penalty and, with Fortec's Alexander Rossi in third not within striking distance, the Toro Rosso reserve driver played it safe to the chequered flag.
"It would have been nice to cross the line in first but we'll take it," said Ricciardo. "I cut quite a lot Turn 1, if I had continued I would have had a very big gap and I thought I would get penalised. So I came off the throttle and put my hand up to make it obvious that I understood what I did was wrong."
"[Then later] I came up alongside [at the Roggia] and I went through and Jean-Eric kept going. I was surprised we didn't touch, it's one of the problems we have with run-off but you could say that I had the inside and maybe Jean-Eric should have given the right of way."
Vergne drops to third, behind Rossi, as a result of the penalty. Rossi's progress was aided by a confused start. Tech 1 Racing's Arthur Pic, starting from sixth, Anton Nebylitskiy and Daniil Move all jumped the start to varying degrees.
At the exit of the chicane, Korjus went off the road owing to a punctured right-rear as consequence of the contact with Vergne.
A fantastic five-car battle for the lead then developed over the early laps, with Vergne leading Ricciardo, Spa winner Robert Wickens (Carlin), Epic Racing's Albert Costa in fourth and Rossi.
Costa gained a great run on Wickens from the exit of the Serraglio on lap eight, but approaching the braking zone for the Ascari chicane the pair made contact. Wickens speared off into the barriers on the outside of the corner, while Costa survived a bumpy excursion across the Ascari's grass run-off to finish fifth behind Cesar Ramos (Fortec).
Pic finished sixth on the road but slipped to ninth when his 10s jump-start penalty is applied. Mofaz Racing's Chris van der Drift inherited the position.
Vergne leads the drivers' standings on 90 points, Rossi is second on 73. Despite Wickens' double retirement this weekend, the Canadian is third on 71. Today's victory promotes Ricciardo to seventh, 54 points adrift of Vergne.
Results - 28 laps:

Pos  Driver               Team               Time/Gap
 1.  Daniel Ricciardo     ISR              46m31.962s
 2.  Alexander Rossi      Fortec             + 2.565s
 3.  Jean-Eric Vergne     Carlin             + 9.492s
 4.  Cesar Ramos          Fortec            + 11.161s
 5.  Albert Costa         Epic              + 11.508s
 6.  Chris van der Drift  Mofaz             + 20.918s
 7.  Nelson Panciatici    KMP               + 21.284s
 8.  Sergio Canamasas     BVM Target        + 22.129s
 9.  Arthur Pic           Tech 1            + 22.180s
10.  Andre Negrao         Draco             + 24.735s
11.  Oliver Webb          Pons              + 28.644s
12.  Jan Charouz          Gravity-Charouz   + 34.434s
13.  Walter Grubmuller    P1                + 39.030s
14.  Daniel de Jong       Comtec            + 39.391s
15.  Stephane Richelmi    Draco             + 40.361s
16.  Jake Rosenzweig      Mofaz             + 41.929s
17.  Daniel Zampieri      BVM Target        + 43.292s
18.  Filip Salaquarda     Pons              + 48.199s
19.  Anton Nebylitskiy    KMP               + 51.139s

Retirements:

     Daniel McKenzie      Comtec              24 laps
     Robert Wickens       Carlin               7 laps
     Brendon Hartley      Gravity-Charouz      2 laps
     Sten Pentus          Epic                 2 laps
     Kevin Korjus         Tech 1               2 laps
     Nathanael Berthon    ISR                  0 laps
     Daniil Move          P1                   0 laps