Renault clarifies Ricciardo issue
| | |
| --- | --- |
| By Peter Mills | Sunday, May 15th 2011, 09:32 GMT |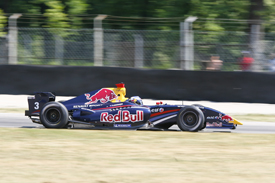 ISR team boss Igor Salaquarda and Renault Sport Technologies have clarified the reasons for ISR driver Daniel Ricciardo's exclusion from Monza's race one qualifying on Saturday.
Ricciardo was sent to the back of the grid for loose fitting under-skirts on his car. A total of 16 bolts fixing each skirt in place were found not to have been fully tightened.
The holes are elliptical in shape, rather than round, so that the teams can alter the position in which the skirts are fitted. If the bolts are loose, the skirt can move up and down, if they are tight there should be no movement. The technical regulations are explicit that no aerodynamic parts can move.
"We didn't say why the bolts were loose, just that this is what we found and that all of the other cars' bolts were tightened," said the series' technical manager Oscar Urdeitx.
A loose fitting skirt could reduce wear and allow a car to gain extra laps of use from the skirts.
Igor Salaquarda's explanation was that the regulations stated that the bolts had to be tightened, but not by how much.
"These skirts are touching the ground at 280km/h here and are getting very hot," said Salaquarda. "Also, there is soft material fitted to metal. Half of the soft material touching the ground was completely worn away, so in my opinion it wouldn't have made a performance advantage."