Alonso confident over title fight
| | |
| --- | --- |
| By Pablo Elizalde | Wednesday, May 11th 2011, 11:09 GMT |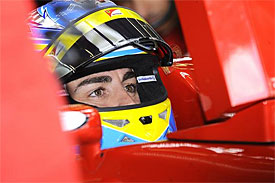 Fernando Alonso is convinced he will be able to fight for this year's title if Ferrari can continue to perform like it did in Turkey.
The Spanish driver scored his first podium of the season at Istanbul, after his strongest outing of the year so far.
Alonso is now hopeful he will be able to stay in the championship fight if Ferrari can keep its momentum, despite Red Bull driver Sebastian Vettel having scored three wins in four events.
"You know I like playing with numbers - and as I travelled backwards and forwards between home, Maranello and Turkey, I made a comparison between my first four races of last year and those of this year in the corresponding grands prix," said Alonso on Ferrari's website.
"What came out of this little game was that compared to 2010 I'm eight points short (49 versus 41) but in the same four races, this year I've brought home 13 more points compared to last year (41 versus 28).
"It's true that my current gap to the top of the drivers' championship is much greater (52 points) compared to what I had after Shanghai 2010 (11 points) but I well recall that after Silverstone we were 47 points away and we only had eight races left.
"Today we still have 15 grands prix to come. This shows that you can look at the same thing in two different, even completely opposite ways. What matters are results and we've started to make the podium: we must do that regularly and if so I'm convinced that we will again be able to fight for the title."
The Ferrari driver said the Turkish GP podium was a morale boost for his team, but admitted the Maranello squad cannot be pleased with a third place and must keep pushing to be able to win races.
"Third place was also important for the morale of the team. We were all unhappy with a start to the season that did not live up to expectations and we know how much good it does to see that the efforts expended every day are paying off.
"But we certainly can't be happy with a third place and what matters most is that we must be much more competitive in qualifying. If we always start from the third row or lower it's a struggle to fight for the podium.
"We have a lot of irons in the fire and we hope that as early as next week in Barcelona we will have new parts that allow us to take an important step forward in qualifying as well."