Harvick, Kyle Busch put on probation
| | |
| --- | --- |
| By Diego Mejia | Tuesday, May 10th 2011, 16:47 GMT |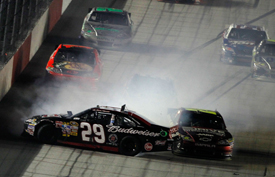 Kevin Harvick and Kyle Busch have both been fined and placed or probation following their pit road dust up after Saturday's NASCAR Sprint Cup series race at Darlington.
The pair were involved in an on-track exchange in the closing laps of the event as they fought for eight place, but their feud carried into the aftermath of the race as they drove into the pits.
The Richard Childress racer chased Busch seeking retaliation for what happened on the track, blocking the Joe Gibbs Racing driver on pit road.
He then got out of his car and tried to punch Busch, who tried to avoid Harvick's attack, pushing his rival's car out of the way as he was still sitting behind the wheel. Harvick's #29 Chevy rolled out of control and crashed against the pit wall.
As a consequence, both drivers have been fined with US $25,000 and placed on probation for the next four Sprint Cup series championship points events until June 15, according to a NASCAR release.
However the probation period also comprises the NASCAR Sprint All Star race, where both drivers are set to compete.
"These penalties are a result of what occurred on pit road after the race was over," said Kerry Tharp, NASCAR's senior director for communications, competition. "They are about maintaining a safe environment on pit road."
Before penalties were made official, Harvick had already made the news public through twitter, adding his own reaction. "Four weeks probation and $25,000 fine....I understand because of the car on pit road..." wrote Harvick.
NASCAR's probation will also be effective for other events where both drivers compete. Both are set to race each other next Friday at Dover in the Camping World Truck Series.