Whitmarsh: Missing updates hurt us
| | |
| --- | --- |
| By Simon Strang | Sunday, May 8th 2011, 14:32 GMT |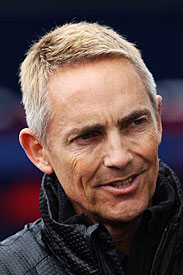 Martin Whitmarsh put McLaren's distant fourth and sixth positions in the Turkish Grand Prix down to the fact that the team was unable to bring as many updates as it would have liked to Istanbul Park.
And while Lewis Hamilton's fourth place means that he remains second in the drivers' standings behind world champion Sebastian Vettel, Whitmarsh accepted that McLaren were unable to compete with Red Bull this weekend.
"Frankly we didn't bring all the developments we wanted here so we weren't quite as quick as we wanted to be, and when you're not you lose places," he told the BBC. "We didn't quite achieve what we wanted in qualifying, then if you then lose places at the start of the race it's very difficult to recover from that."
McLaren split its drivers on to separate strategies, with Hamilton on a conventional four-stop plan and Jenson Button opting to do three. Whitmarsh admitted that Button's strategy didn't work but added that he felt it would have made little difference to the outcome of the race.
"I think in fairness the strategy was right, it was a reasonable strategy with Jenson Button but I don't think it helped him, then I don't think it particularly harmed him," he said. "I think the absence of fresh option tyres, I don't think was significant to the outcome of the race.
"This weekend has been a bit tricky really, I think to leave with Lewis [Hamilton] still second in the championship is a reasonable situation, but we had a number of things go wrong this weekend," said Whitmarsh. "In the race itself, obviously losing some places at the beginning made it very difficult to recover from that; if you get into having to be aggressive with the tyres to get through the field you are just damaging your tyres.
"I think Lewis had some sensible race pace but by that time really couldn't do anything with it, Jenson with the three-stop - even for someone like him - was probably a stop too short.
"He was the quickest of the three-stoppers but that probably wasn't the right strategy. We had a couple of issues in the pitstops as well, I have to say the chief mechanic did very well to avoid an accident; we had some exciting moments with our drivers on the race track and we had some exciting moments in the pitlane. I hope it was nonetheless a good show, but we were a bit disappointed. Let's see if we can do a better job in Spain."