Loeb thinks lead will be sufficient
| | |
| --- | --- |
| By David Evans | Saturday, May 7th 2011, 20:41 GMT |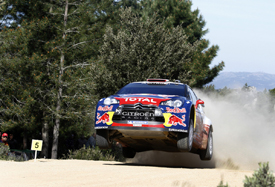 Sebastien Loeb says his 28-second advantage going into the final day of Rally d'Italia is big enough for him to win the Olbia-based event tomorrow afternoon.
The Citroen-driving Frenchman had been hoping for a 20s cushion at the end of day two to feel confident of hanging on to his lead when running first on the road, but he upped that with a huge effort through the final two stages of Saturday.
"The gap should be enough to win," said Loeb. "But it's not enough to relax, I will still have to push."
Asked if he was surprised at the pace he had been able to show from the front of the field, Loeb replied: "Surprised? Not surprised, but happy because it was really a hard job and at some points of the day or in some stages I thought I would lose lots of time, it was so slippery. But, after two days of leading and cleaning we are here and I am happy."
Second placed Mikko Hirvonen - the man who has run first on the road for the last three rallies - paid tribute to the efforts of his rival.
"Loeb was unbelievably fast on the middle stage this afternoon, I don't know where he found that speed," said Hirvonen. "I need to really concentrate on the final day and be the best I can.
"I'm a bit disappointed this evening and very surprised by Loeb's pace on those two stages this afternoon. Maybe I should've been more on the case in the first two stages this morning."
As much as Hirvonen will be wanting to chase Loeb, he has to keep a firm eye on Sebastien Ogier and Petter Solberg, both of whom are close enough to steal his runner-up spot.