Nissan fills Portimao podium
| | |
| --- | --- |
| | Saturday, May 7th 2011, 17:15 GMT |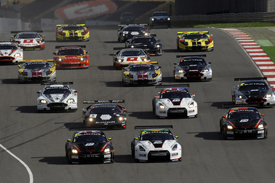 Nissan swept the podium positions in the GT1 World Championship qualifying race at Portimao, with the JR Motorsports cars of Peter Dumbreck/Richard Westbrook and Lucas Luhr/Michael Krumm finishing first and second ahead of the Jamie Campbell-Walter/David Brabham Sumo Power machine.
The Nissan crews had filled the first two rows after qualifying, but the second Sumo Power car was spun to the back of the field at the first corner when Ricardo Zonta was tagged by the fast-starting Swiss Racing Team Lamborghini of Peter Kox.
The Dutchman was then among the victims in a multi-car pile-up at Turn 4 that saw both the Swiss Lamborghini and Stef Dusseldorp's Hexis Aston Martin pushed into separate spins, and Alex Muller's Young Driver Aston briefly up on two wheels in the resultant traffic jam.
Those collisions allowed the top three Nissans to break away, and for several other cars to make dramatic first-lap progress, with the Exim China Corvette, #38 All-Inkl Lamborghini, #8 Young Driver Aston and #37 All-Inkl Lamborghini immediately up to fourth through seventh places from 11th, 12th, 14th and 18th on the grid.
Stefan Mucke and Darren Turner made the best progress to get their Aston up to fourth, while the Nicky Pastorelli/Dominik Schwager Lamborghini reached fifth by lap 10, but by then the lead Nissans were totally out of reach.
The Luhr/Krumm car jumped Dumbreck and Westbrook for the lead in the pitstops - coming in one lap earlier paying dividends for the #23 crew. But within a few laps Westbrook was diving down the inside into Turn 1 to reclaim a lead that he would hold to the flag, despite mounting pressure from Luhr in the closing corners.
Campbell-Walter and Brabham completed the podium ahead of the #8 Young Driver Aston and #37 All-Inkl Lamborghini.
Marc VDS' Yann Clairay and Maxime Martin were sixth in the leading Ford, with championship leaders Marc Basseng and Markus Winkelhock only seventh in the end.
Zonta and Enrique Bernoldi recovered to eighth in the other Nissan, two places ahead of Kox and team-mate Karl Wendlinger. The Nicky Catsburg/Mike Hezemans Exim China Corvette slipped back to ninth.
Results - 34 laps:

Pos  Drivers                  Team/Car                  Time/Gap
 1.  Westbrook/Dumbreck       JRM Nissan             1h00m04.931s
 2.  Luhr/Krumm               JRM Nissan                 + 0.388s
 3.  Campbell-Walter/Brabham  Sumo Power Nissan        + 11.239s
 4.  Mucke/Turner             Young Driver Aston       + 16.218s
 5.  Pastorelli/Schwager      All-Inkl Lamborghini     + 25.994s
 6.  Clairay/Martin           Marc VDS Ford            + 32.599s
 7.  Winkelhock/Basseng       All-Inkl Lamborghini     + 39.688s
 8.  Bernoldi/Zonta           Sumo Power Nissan        + 40.999s
 9.  Hezemans/Catsburg        Exim China Corvette      + 45.470s
10.  Wendlinger/Kox           Swiss Lamborghini      + 1m00.389s
11.  Hohenadel/Piccini        Hexis Aston            + 1m01.718s
12.  Nilsson/Janak            Swiss Lamborghini      + 1m10.533s
13.  Piccione/Dusseldorp      Hexis Aston            + 1m14.432s
14.  Nygaard/Ickx             Belgian Ford           + 1m20.638s
15.  Bobbi/Rossi              DKR Corvette           + 1m33.815s
16.  Matzke/Leclerc           Belgian Ford               + 1 lap

Retirements:

     Hennerici/Leinders       Marc VDS Ford              20 laps
     Muller/Enge              Young Driver Aston          0 laps