Massa: Mercedes a growing threat
| | |
| --- | --- |
| By Jonathan Noble | Saturday, May 7th 2011, 07:22 GMT |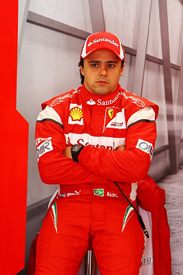 Felipe Massa is encouraged by the progress that Ferrari has made with its car in recent weeks - but thinks the team needs to be wary of the step forward made by rival Mercedes GP.
With Ferrari having got to the bottom of the windtunnel calibration issues that hindered its early season progress, the team is hoping that updates coming in the pipeline now will help it make big steps forward soon.
But although Massa is pleased that upgrades introduced in Turkey have helped a little, he acknowledges that Ferrari cannot ignore the work that Mercedes GP has done to improve its car too.
"For sure the new parts [on the Ferrari] work, this is really clear," said Massa. "Everything we put on the car we saw a performance improvement, and I have the feeling that we have got a little bit closer to the other cars like McLaren and Red Bull, compared to the other tracks.
"But it is also true that Mercedes is maybe a team that made a big step. They were competitive here. Maybe you know better what they have on the car, but they did a very, very good step.
"We will wait and see in qualifying how it will be everyone together on the same fuel, but Mercedes looks very competitive. And that means another team that we need to be really, really clever with in our strategy and our working."
Massa hopes that with his team now back on an upward trend, it will be in a position to fight for victories as soon as possible.
"For sure, we improved the car in the direction we wanted," he said. "It is not 100 per cent because we were not first, we were not in front of Red Bull Racing and McLaren, and even now with Mercedes, but we saw an improvement.
"That is the direction we need to keep working. We still need to improve, and I hope we carry on like that and we see this kind of improvement, this kind of step, race by race, and I hope we get a position to fight for the victory as soon as possible."