Trial tyre compound set to stay
| | |
| --- | --- |
| By Edd Straw | Friday, May 6th 2011, 15:50 GMT |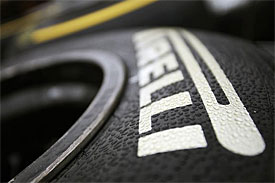 Pirelli expects to allocate the new more durable tyre compound that was trialled today as its regular hard compound tyre from the Spanish Grand Prix onwards.
The hard tyre has not proved to be as durable compared to the soft as was hoped, particularly on more abrasive tracks such as Sepang. But Pirelli motorsport director Paul Hembery is confident that the trial compound is an improvement.
The teams will have to support the switch, but despite limited running of the rubber today, they are expected to give it the green light.
"We tested a new hard compound this morning and had maybe 10 laps of running," said Hembery. "Our intention is to advise that teams that we take that to Barcelona.
"It's a tyre that's slow on warm-up and the peak performance is a little less, but it has more durability and less decay so over a stint it will be substantially quicker."
The new hard compound has already been tried twice by Pirelli's test team - at Istanbul Park and Barcelona over the past month - and the feedback from the teams has matched its own impressions of the compound.
"Everyone ran the tyre today and we've run it twice," said Hembery. "We're confident in the information we've got.
"We do feel that we have something as we tested it in Barcelona this week and do have something that will solve the issue."
Although the first free practice session was held largely in wet conditions, teams did complete a substantial amount of running on slicks in the afternoon session.
Despite fears that the high-load Turn 8 would lead to excess tyre degradation and wear, Hembery has no major concerns. Although in previous races it has been rear tyre degradation that has been high, initial data indicates that the right front is taking the biggest punishment in the long left-hander.
"We have learned that we are in line with our expectations," he said of Turn 8. "We tested here a month ago and we didn't have any issues any then and we haven't had any issues today.
"We were fortunate to have some decent weather in that second session and had quite a lot of laps with different compounds. The times were clearly very quick, which gave the tyres a good workout.
"Assuming it doesn't rain between now and Sunday, there are a lot of cars running with F1, GP2 and GP3 so the track is going to evolve if it doesn't rain. That will have a bit impact on wear levels. That's something that we have to evaluate tomorrow after FP3 tomorrow.
"I don't think we are looking under three pit-stops. But the teams are going to have to be aware that they might to change strategy during the race."