Grosjean takes pole despite spin
| | |
| --- | --- |
| By Glenn Freeman | Friday, May 6th 2011, 13:59 GMT |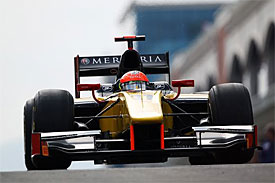 Romain Grosjean overcame a 360-degree spin in Istanbul Park's famous Turn 8 to take pole position for the GP2 opener in Turkey.
The DAMS driver engaged in a head-to-head battle for supremacy with Jules Bianchi (ART) in the first half of the session. The French pair exchanged places at the top of the times on several occasions, until Bianchi had to abandon his latest response when Davide Valsecchi stopped on track and brought out the red flags.
After the session was restarted, the French fight for pole was intercepted by Sam Bird and Luca Filippi. The Italian went second fastest with what was his first flying lap after he had spun at the start of the session, while Bird took the place from him a couple of minutes later.
Grosjean went back out in the final minutes in a bid to extend his narrow margin over the Briton, but he lost the rear of the car in Turn 8 and had a high-speed 360-degree spin without leaving the track.
Bianchi was unable to improve and had to settle for fourth behind Bird and Filippi, while Dani Clos and Luiz Razia completed the third row after both put in solid performances all session.
Charles Pic got himself up to seventh late on, putting him just ahead of Valsecchi. The Italian's on-track stoppage to bring out the red flags was far from straightforward, as he then rolled backwards down the track for quite a distance before restarting just as the red flags came out.
The session was stopped twice more, both times for nasty looking accidents at the end of the backstraight. First Mikhail Aleshin locked up and then careered into the barriers at high speed, and Michael Herck then did the same in the final seconds of the session.
Pos  Driver               Team                Time       Gap
 1.  Romain Grosjean      DAMS                1m34.398s
 2.  Sam Bird             iSport              1m34.483s  + 0.085s
 3.  Luca Filippi         Super Nova          1m34.709s  + 0.311s
 4.  Jules Bianchi        ART                 1m34.784s  + 0.386s
 5.  Dani Clos            Racing Engineering  1m34.797s  + 0.399s
 6.  Luiz Razia           AirAsia             1m34.888s  + 0.490s
 7.  Charles Pic          Addax               1m34.954s  + 0.556s
 8.  Davide Valsecchi     AirAsia             1m34.975s  + 0.577s
 9.  Christian Vietoris   Racing Engineering  1m34.981s  + 0.583s
10.  Josef Kral           Arden               1m35.050s  + 0.652s
11.  Max Chilton          Carlin              1m35.110s  + 0.712s
12.  Giedo van der Garde  Addax               1m35.140s  + 0.742s
13.  Jolyon Palmer        Arden               1m35.159s  + 0.761s
14.  Fabio Leimer         Rapax               1m35.164s  + 0.766s
15.  Stefano Coletti      Trident             1m35.182s  + 0.784s
16.  Johnny Cecotto Jr    Ocean               1m35.360s  + 0.962s
17.  Davide Rigon         Coloni              1m35.369s  + 0.971s
18.  Marcus Ericsson      iSport              1m35.375s  + 0.977s
19.  Fairuz Fauzy         Super Nova          1m35.428s  + 1.030s
20.  Michael Herck        Coloni              1m35.545s  + 1.147s
21.  Pal Varhaug          DAMS                1m35.681s  + 1.283s
22.  Kevin Mirocha        Ocean               1m35.825s  + 1.427s
23.  Mikhail Aleshin      Carlin              1m35.873s  + 1.475s
24.  Esteban Gutierrez    ART                 1m35.973s  + 1.575s
25.  Julian Leal          Rapax               1m36.168s  + 1.770s
26.  Rodolfo Gonzalez     Trident             1m36.187s  + 1.789s