Button: Turkey to show true picture
| | |
| --- | --- |
| By Jonathan Noble | Friday, May 6th 2011, 12:22 GMT |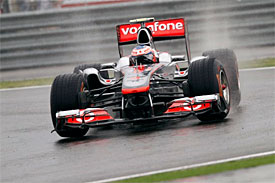 Jenson Button believes the Turkish Grand Prix will provide a definitive answer as to just how close McLaren is to Red Bull Racing this year.
Although Sebastian Vettel has taken victories in two out of the first three races, and been on pole position at every event, Button does not believe that Red Bull Racing is in a different league.
And, with the two teams having battled so hard for a race victory in Istanbul 12 months ago, Button believes that this weekend's race will offer a glimpse about the true balance of power between the two teams.
When asked by AUTOSPORT if he felt that McLaren was ultimately closer to Red Bull Racing this year because of its strong race form, Button said: "I can tell you after this race because this is the GP last year that we picked up pace and were actually able to race them.
"I don't know. We will have to wait until Sunday to see, but I think in China we were very close to them and possibly closer in the race. Qualifying we are further away, and it is a massive gap, but that doesn't win you a race. I think we are closer in race trim."
Button hopes that the package of upgrades brought by his McLaren team this weekend will help its cause, but thinks it unlikely that they will be enough to lift it on a par with Red Bull Racing in qualifying.
"Everyone has upgrades and it is about whose work and whose are big," he said. "You hear rumours that Red Bulls is a big upgrade and Ferraris is big, and that Mercedes' is not as big and maybe ours isn't as big.
"I wouldn't say we could bring an upgrade that is seven and a half tenths and Red Bull stands still. So I think they will be very quick in qualifying.
"But I am sure they are thinking, we would rather take away some of our qualifying performance and put it in our race car. I am sure they are happy in qualifying but I am sure they would rather be quicker in the race."