PURE engine on test bed by year's end
| | |
| --- | --- |
| By Jonathan Noble and Simon Strang | Wednesday, May 4th 2011, 22:17 GMT |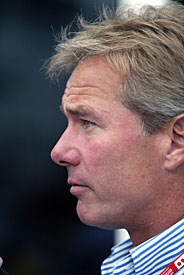 PURE's new Formula 1 engine is set to be on the test bed at the end of this year - with project chief Craig Pollock believing his company is ahead of its rivals in preparation for 2013.
Despite having only announced his plans this week, Pollock has revealed that efforts on its new 1.6-litre turbo engine are well advanced.
He says that the engine will be tested on a dyno later this year - which he thinks makes it the first 2013-spec engine to do so.
"It will be towards the end of this year," he told AUTOSPORT about the plans for the new engine.
"Talking to various people inside the sport we reckon that we are just about ahead of the field. Don't forget that Mercedes, Ferrari and Renault are all running current V8 engine programmes and they still have to go until the end of 2012, so they all have to carry on developing their engines. We are concentrated on one engine at the moment."
When asked if he believed there could be a similar advantage to preparing early that Brawn GP enjoyed in 2009 with its headstart on car design, Pollock said: "I think the Brawn Honda approach was very well done and it was fantastic for them to have won a championship, but I would say that while we have the same approach we are walking before we are running."
Pollock said he was confident that by the time the engine needed to be tested in a car that he would have a customer team in place.
"I think that we will have customers before then. I think at the moment the way everything is going inside the sport there will be customers, I'm sure of that. Which, I've got no idea. It would be pure speculation".