| | |
| --- | --- |
| Back issue almost forced Stoner out | |
| | |
| --- | --- |
| By Matt Beer | Sunday, May 1st 2011, 13:21 GMT |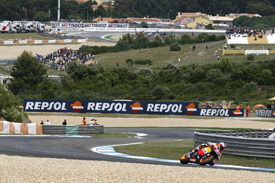 Casey Stoner revealed that he almost retired from the Portuguese Grand Prix due to back pain developing during the race.
The Honda rider finished third, but lost any remaining hope of joining Jorge Lorenzo and Dani Pedrosa's lead battle when the back issue struck.
"When we thought at the end of the race everything was going to become better because that's the way we normally have our bike set up, I unfortunately had a twinge in the back," Stoner explained.
"For about half a lap I couldn't move. I was contemplating pulling into the pits.
"But luckily it loosened up enough for me to be able to change direction and get from one side of the bike to the other. It's just a relief, to be honest, to finish.
"At the end of the race I thought I'd at least try and keep the pressure there a little bit in case one of them made a mistake, but they both rode a great race and there was no way I could pull them back in."
Prior to his physical issue, Stoner had stayed around two seconds behind the lead battle, matching their pace most of the time. He was critical of Marco Simoncelli's actions on the first lap, which he felt had cost him a chance to stay with the top two.
"I wasn't really too happy with the move Marco pulled on me in the first turn, and then we both made a mistake between Turn 1 and 2, and then he crashed in front of me in Turn 4 and that really just put the gap there," said Stoner.
"After that I was really struggling to find confidence going into the corner. Every turn I went in on the left side the bike wanted to follow me around. I almost high-sided a couple of times.
"I tried to pull the gap back but couldn't really make any inroads. We were more or less doing the same. They'd pull some on a few consecutive laps and I'd be able to pull a little bit back. But it wasn't quite enough."