Vergne takes Spa race two pole
| | |
| --- | --- |
| By Peter Mills | Sunday, May 1st 2011, 08:37 GMT |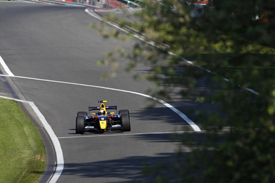 Jean-Eric Vergne has taken pole position for Spa-Francorchamps' second Formula Renault 3.5 race of the weekend.
The Frenchman will be aiming to go one better than his close second place to Carlin team-mate Robert Wickens in race one.
"It was a good lap," said Vergne. "Although my speed was not the best in sector two, I think for the race we'll leave the car close to how we had it yesterday."
BVM Target's Daniel Zampieri split the Carlin duo in this morning's qualifying session. The Italian's fastest time of 2m03.632s was some 0.238 seconds slower than Vergne's effort. Zampieri starred in last year's wet race at the Ardennes circuit, but this afternoon's affair is set to take place in dry conditions.
Race one winner Wickens was content with third spot. "It felt a tidy lap," said the Canadian. "I couldn't have done much better, maybe a tenth. It was definitely mistake free, so from that side I am pleased. From the second row, with a good pitstop strategy, hopefully I can still win."
Chris van der Drift enjoyed his best qualifying of the season. The Mofaz driver held the provisional pole for much of the session, before slipping to fourth. The Kiwi had struggled with straight-line speed in race one, but the problem now appears to be resolved.
"Yesterday we went backwards, but things are getting better," said van der Drift. "I have to have another discussion with the guys about our pitstop plans as I wasn't expecting to be so high up. We have been P8 or P9 for most of the weekend."
P1 Motorsport's Walter Grubmuller also enjoyed an upturn in form to claim fifth, ahead of Friday practice pacesetter Cesar Ramos.
"The balance is now much better than Saturday," said Ramos, who qualified 14th in race one. "Sixth is much better than where we were, at least I can fight."
Ramos's Fortec team-mate Alexander Rossi was at a loss to explain his disappointing 15th position. The American is second in the drivers' standings to Wickens.
"We seem to have semi-decent race pace," said Motorland winner Rossi, "but over one lap we're struggling. I just hope we can find whatever it is before the race."
Pos  Driver               Team             Time       Gap
 1.  Jean-Eric Vergne     Carlin           2m02.394s
 2.  Daniel Zampieri      BVM Target       2m02.632s  + 0.238s
 3.  Robert Wickens       Carlin           2m02.812s  + 0.418s
 4.  Chris van der Drift  Mofaz            2m02.814s  + 0.420s
 5.  Walter Grubmuller    P1               2m02.899s  + 0.505s
 6.  Cesar Ramos          Fortec           2m02.952s  + 0.558s
 7.  Daniel Ricciardo     ISR              2m02.954s  + 0.560s
 8.  Nelson Panciatici    KMP              2m03.023s  + 0.629s
 9.  Anton Nebylitskiy    KMP              2m03.116s  + 0.722s
10.  Kevin Korjus         Tech 1           2m03.161s  + 0.767s
11.  Albert Costa         EPIC             2m03.177s  + 0.783s
12.  Brendon Hartley      Gravity-Charouz  2m03.278s  + 0.884s
13.  Jake Rosenzweig      Mofaz            2m03.341s  + 0.947s
14.  Nathanael Berthon    ISR              2m03.509s  + 1.115s
15.  Alexander Rossi      Fortec           2m03.513s  + 1.119s
16.  Arthur Pic           Tech 1           2m03.590s  + 1.196s
17.  Daniil Move          P1               2m03.684s  + 1.290s
18.  Sten Pentus          EPIC             2m03.735s  + 1.341s
19.  Oliver Webb          Pons             2m03.813s  + 1.419s
20.  Jan Charouz          Gravity-Charouz  2m03.829s  + 1.435s
21.  Sergio Canamasas     BVM Target       2m03.849s  + 1.455s
22.  Andre Negrao         Draco            2m03.891s  + 1.497s
23.  Stephane Richelmi    Draco            2m03.901s  + 1.507s
24.  Daniel McKenzie      Comtec           2m04.029s  + 1.635s
25.  Jean-Karl Vernay     Pons             2m04.251s  + 1.857s
26.  Daniel de Jong       Comtec           2m04.943s  + 2.549s