Hamlin eyes rebound at Richmond
| | |
| --- | --- |
| By Diego Mejia | Saturday, April 30th 2011, 06:26 GMT |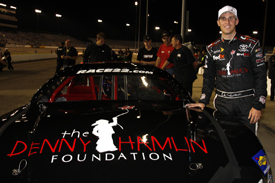 Denny Hamlin hopes wins in support races at Richmond can boost his chances of getting his first NASCAR Sprint Cup victory of the season this weekend, following a lacklustre start to his 2011 campaign.
The Joe Gibbs Racing driver, who finished runner up to Jimmie Johnson in the 2010 championship, ranks only 17th in the driver standings after eight races this season, his best result being a seventh place at Las Vegas, his only top-10 finish of the year.
This Thursday at Richmond, Hamlin won the fourth annual Denny Hamlin Short track challenge, a charity Late Model stock car race where other Cup regulars like Kyle Busch, Joey Logano and Tony Stewart took on a number young hopefuls. Starting from the back of the field, Hamlin snatched victory from his Cup team-mate Busch, who suffered with fuel pick-up issues in the closing laps of the event.
On Friday night Hamlin visited victory lane once again after winning the Nationwide Series event, claiming his 11th career victory in the second-tier series. He hopes he can keep his momentum rolling, entering Saturday night's Cup event at what he calls his home track.
"It's been good for sure," said Hamlin. "Obviously, we knew this was a big weekend in general for myself to kind of get back on track on the Cup side. I needed a few good nights before the Cup race to kind of get the ball rolling so everything has been good so far this week. Obviously, the win last night and then tonight was a little bit bigger so hopefully we just continue that ladder."
Hamlin, who has been in every Chase since his first full Cup season in 2006, believes he is in need of some solid results from this weekend onwards if he is to be a championship contender at the end of the season once again.
"We've got to have a weekend with no flaws," Hamlin said. "We can't keep giving up points to 10th place and I think we're 50 behind right now. We've got to start chipping away. It's going to be tough. Guys in the top 10 right now are going to be guys that are hard to displace."
"No one is going to put any more pressure on myself than me," he added. "I'm my own worst critic, no doubt about it. I'm just looking forward to this weekend. We need this weekend to get back on track and I think it's the perfect time to do it."
Hamlin has won two of the last three Cup races at Richmond. His team-mate Kyle Busch has split victories with him at the 0.75-mile track for the past two years.