| | |
| --- | --- |
| Pedrosa content with physical state | |
| | |
| --- | --- |
| By Matt Beer | Friday, April 29th 2011, 20:19 GMT |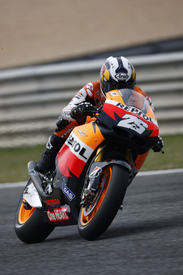 Dani Pedrosa declared himself satisfied with his physical condition in Estoril practice after his recent surgery, but felt he had not managed enough running to be confident of his fitness going into the Portuguese Grand Prix weekend.
After the Jerez race earlier this month, Pedrosa had an operation to remove a plate from his collarbone - inserted after his Motegi 2010 crash - that was causing a loss of feeling in his arm.
He was an encouraging third fastest today at Estoril, though wished he had been able to do more longer runs to fully assess his condition.
"I think the first day of practice has been positive, it's the first race after a major operation so it's only logical that I feel sore and I understand that with a little more time and treatment this will disappear," said Pedrosa. "The pain I feel and some cramps are caused by tension I have in the shoulder area.
"The last round of laps this afternoon I wanted to extend a little longer to see how I felt, but I made seven laps in a row, which would be about 15 minutes, and this is not enough to make a definitive judgement."
Honda's other two works riders were unhappy with their speed today, with Casey Stoner fifth and Andrea Dovizioso down in 12th.
"To be honest I'm not very happy with how the day has gone, we had a few small issues with the bike that took quite a lot of time out of our sessions today," said Stoner.
"We could have had a much more productive day than we did as we didn't really find any improvements, we have to wait for tomorrow and hope for some dry weather because at this moment we're not too happy with the setting of the bike.
"We need to improve it a little under braking and in the middle of the corner where we seem to be struggling to get the bike to turn so if there is some good weather tomorrow we should be able to improve the situation and not be so far off."
Dovizioso was even more frustrated as he failed to even break into the top 10.
"Today I had two difficult practice sessions and I can't be happy," he said. "I had no feeling with the front so we made several runs to test the modifications, but the situation in general didn't improve in the afternoon and I struggled to make lap times."