| | |
| --- | --- |
| Rossi pleased with improved fitness | |
| | |
| --- | --- |
| By Matt Beer | Friday, April 29th 2011, 20:11 GMT |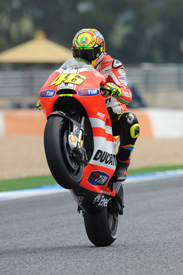 Valentino Rossi believes he has taken another step forward in fitness between the Spanish and Portuguese Grands Prix, having finished Friday practice at Estoril today fourth fastest.
With the postponement of the Japanese GP following last month's natural disasters in the nation, there has been a near-month-long gap in the MotoGP schedule, and Rossi felt he was riding more naturally when the series resumed today that at any time since he damaged his shoulder in a Motocross crash a year ago.
"I'm pretty satisfied with how the day went," he said. "Let's start with my physical condition, which I'm very happy with. I was obviously aware of being a little better when I arrived here, but I wanted to wait until I tested my shoulder on the track, which confirmed that I'm able to ride well and have fun.
"It still hurts a little, and I'm missing a little strength, but the difference compared to my left shoulder is less. I can concentrate on riding the bike, and when watching myself on television, I can see that my style is starting to be a little more normal."
Rossi added that Ducati had made good progress with its bike today.
"We used a different weight distribution and some changes to the electronics that worked well," he said. "For the first time, we went faster in the afternoon session than in the morning. We dropped almost half a second, getting us closer to the top.
"I still have some problems with rear grip, so tomorrow we have to do better, but I'm happy for now."