Citroen questions Middle East rallies
| | |
| --- | --- |
| By David Evans | Wednesday, April 20th 2011, 09:06 GMT |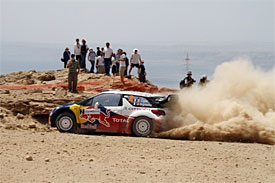 Citroen team principal Olivier Quesnel has questioned the need for a World Rally Championship round in the Middle East following a complicated fourth round of the series in Jordan.
The organisers of the Jordan Rally were forced to cancel the opening day of their event to ensure the teams had enough time to prepare themselves for the event after the delayed arrival of the transport boat.
Despite Citroen DS3s taking two of the three podium steps on Saturday, Quesnel admitted that he didn't see the point of competing in the region with so few spectators out watching the cars.
"The FIA wants to have a round in the Middle East, so we have to go, but it's not important for us," said Quesnel. "There's not really enough people. I have to say, I wouldn't be sad not to come back to Jordan.
"The stages are okay, but it's not enough. In Abu Dhabi, sure there is more money, I'm pretty sure we won't have too many people there either."
Citroen and the other teams involved in chartering the boat to get the kit from Italy to Israel have been counting the cost of their last-minute change of plans.
Originally, the equipment was going through Syria, but when the unrest began there, plans had to be changed and the new boat was hired at a collective cost of almost £500,000.
M-Sport's Malcolm Wilson shouldered almost half of that cost.
"I would say it cost us around £230,000 on top of the normal costs," said Wilson, "but what else could we do? Okay, some of that cost was because I airfreighted the rally cars from the last rally in Portugal and then into here, but we had to do that to give the guys the best chance possible for the preparation of the cars.
"But, as you can imagine, I'm not happy about the money. I can't pass this on to anybody, I have to pay. Equally, I don't think there's any stronger demonstration of our commitment to this sport."
Ironically, the boat which failed on the way to the Jordan Rally was exactly the same one which failed on the way to the Cyprus Rally in 2006, when the recce had to be put back a day.