Webber relieved Vettel's run ended
| | |
| --- | --- |
| By Jonathan Noble and Matt Beer | Sunday, April 17th 2011, 09:35 GMT |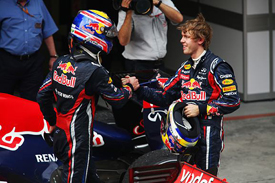 Mark Webber said he was pleased to see his Red Bull team-mate Sebastian Vettel's run of victories come to an end in China, as he did not want the world champion getting out of reach in the title hunt too early.
Webber drove a spectacular Shanghai race to come from 18th to third, while Vettel lost the lead to Lewis Hamilton with just a handful of laps to go.
"Congratulations to Lewis," said Webber. "It was good that someone finally... of course Seb is in the same team, but he's been on a phenomenal run and we're all here together fighting for victories.
"Shame McLaren won in a way, but also we can't let Seb get too far away. It was a good day for the racing, I think, and a good day for us in terms of points for the team."
Webber had appeared to be making little progress in the opening stages, as he struggled to get through the midfield traffic while on hard tyres. But he later flew on softs and came through to third with a string of late moves.
"It was an interesting GP, we decided to start on the prime hard tyre," said Webber. "We know it was not the more desired tyre. We got that out of the way, and it was quite tricky. It was not easy to come back with those guys.
"But I got the car back and we really started from there. To still see P17 on board after 15 laps [was hard], then I felt comfortable with car, and I had a few sets of tyres left after qualifying - so maybe the best bet is not to take part in qualifying and go from there!
"Jokes aside, great job this weekend, the guys haven't given up - it is a drive for everyone at the factory."