Smith beats Graf to Long Beach pole
| | |
| --- | --- |
| | Saturday, April 16th 2011, 02:22 GMT |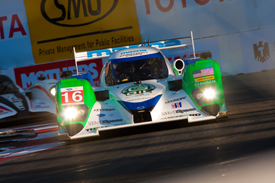 Dyson Racing's Guy Smith backed up his practice pace to take pole position for round two of the American Le Mans Series at Long Beach in a depleted LMP1 field.
The 2003 Le Mans 24 Hours winner was 0.452s faster in the Lola-Mazda coupe than his nearest challenger - the Muscle Milk Lola Aston Martin driven by Klaus Graf.
Despite these two cars being the only runners in the 15 minute qualifying session, the battle between them was close enough to suggest that the race at the front could be heated.
The real attention in the event is likely to be focused on the intensely competitive GT class however. Fresh from its Sebring 12 Hours victory, BMW forged to the top again in qualifying as Joey Hand saw off challenges from Jan Magnussen's Chevrolet Corvette, Bill Auberlen (BMW) and Patrick Long - whose Porsche in the hands of Jorg Bergmeister had been quickest in practice.
Hand's advantage over the Dane was eventually just 0.047s.
The fastest Ferrari in class was that of Johannes van Overbeek in the Extreme Speed Italia 458, which lines up sixth behind Wolf Henzler's Porsche.
Gunner Jeanette was third fastest overall and took pole for the LMPC class with the CORE Autosport team.
Jeroen Bleekemolen meanwhile took the top spot in the GTC class with his Black Swan Porsche 911 GT3 Cup car.

Pos  Cl      Drivers                Team/Car                Time

 1.  LMP1    Smith/Dyson            Dyson Lola-Mazda        1m14.001s
 2.  LMP1    Graf/Luhr              Muscle Milk Lola-Aston  1m14.453s
 3.  LMPC    Jeannette/Gonzalez     Core ORECA              1m17.736s
 4.  LMPC    Marcelli/Drissi        Intersport ORECA        1m18.124s
 5.  LMPC    Figge/Maroney          PR1 Mathiasen ORECA     1m18.286s
 6.  LMPC    Lux/Julian             Genoa ORECA             1m18.690s
 7.  GT      Muller/Hand            BMW                     1m19.090s
 8.  GT      Gavin/Magnussen        Corvette                1m19.137s
 9.  GT      Auberlen/Werner        BMW                     1m19.447s
10.  GT      Bergmeister/Long       Flying Lizard Porsche   1m19.463s
11.  GT      Henzler/Sellers        Falken Porsche          1m20.065s
12.  GT      Sharp/van Overbeek     Extreme Speed Ferrari   1m20.167s
13.  GT      Brown/Cosmo            Extreme Speed Ferrari   1m20.176s
14.  GT      Miller/Maassen         Miller Porsche          1m20.646s
15.  GT      Beretta/Milner         Corvette                1m20.724s
16.  GT      Junqueira/da Matta     RSR Jaguar              1m20.924s
17.  LMPC    Bennett/Montecalvo     Core ORECA              1m21.387s
18.  GT      Jones/Gentilozzi       RSR Jaguar              1m22.244s
19.  GTC     Pappas/Bleekemolen     Black Swan Porsche      1m23.179s
20.  GTC     Sweedler/Keen          Alex Job Porsche        1m23.853s
21.  GT      Pastorelli/Schwager    West Lamborghini        1m23.906s
22.  GTC     Enda/Pumpelly          TRG Porsche             1m24.134s
23.  GTC     Potter/Stanton         Magnus Porsche          1m24.362s
24.  GTC     Curtis/Sofronas        GMG Porsche             1m24.651s
25.  GTC     Von Moltke/Gaughan     TRG Porsche             1m24.878s
26.  GT      Law/Neiman             Flying Lizard Porsche   1m25.543s
27.  GTC     Ham/Blackett           JDX Porsche             1m25.743s
28.  GT      Melo/Vilander          Risi Ferrari            1m48.071s
29.  LMPC    Nicolosi/Boon          Performance Tech ORECA  no time
30.  LMP2    Tucker/Bouchut         Level 5 Lola-Honda      no time
31.  LMP2    Tucker/Diaz            Level 5 Lola-Honda      no time