Fortec one-two in second session
| | |
| --- | --- |
| By Peter Mills | Friday, April 15th 2011, 15:34 GMT |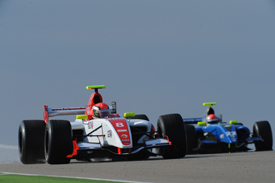 Fortec pairing Cesar Ramos and Alexander Rossi led Friday's second Formula Renault 3.5 practice session at Motorland Aragon.
Reigning Italian Formula 3 champion Ramos had the honour of the fastest time, shading his American team-mate by just 0.001s.
"Well, I am little bit frustrated, but it is very close," said Rossi, after occupying first position for much of the session. "The track feels a little different from how it did in [the March] test, there's more rubber down but there is not so much grip. The wind has also changed, some corners it is quicker and some slower."
On home soil, EPIC Racing's Albert Costa finished the afternoon in third. P1 Motorsport's Daniil Move repeated his strong morning form with fourth.
London-born American Jake Rosenzweig had a spell at the top of the timesheets, before ending the day in an encouraging fifth for Mofaz Racing.
Robert Wickens will be looking for a strong points haul this weekend, as potential title rival Daniel Ricciardo is absent on clashing Formula 1 practice duties for Toro Rosso in China. Wickens' solitary Carlin machine finished the hour and fifteen minute session in a solid sixth.
2010 McLaren AUTOSPORT BRDC winner Lewis Williamson, Ricciardo's stand-in at ISR, was a respectable 13th. The Scot travelled from Barcelona's GP3 test on Thursday for a seat fitting with the Czech team last night. The MW Arden GP3 man was, understandably, using Friday practice to acclimatise to his new environment.
"Every run I did we were getting quicker, so you can see there's more to come," said Williamson. "I am still getting used to the brakes; how you apply them and how you come off them. Opportunities like this can come at any time during a season, and I need to be in a position where I can just jump in and grasp them with two hands.
"I am proud that I was considered for this drive. I'm not saying that I can achieve on my first weekend in the series what Ricciardo can do when he's really on it, but I am with one of the best teams, if not the best team, and I want to do justice to what the car and the team is capable of."
Pos  Driver               Team             Time       Gap
 1.  Cesar Ramos          Fortec           1m43.333s
 2.  Alexander Rossi      Fortec           1m43.334s  + 0.001s
 3.  Albert Costa         EPIC             1m43.427s  + 0.094s
 4.  Daniil Move          P1               1m43.696s  + 0.363s
 5.  Jake Rosenzweig      Mofaz            1m43.779s  + 0.446s
 6.  Robert Wickens       Carlin           1m43.801s  + 0.468s
 7.  Walter Grubmuller    P1               1m43.878s  + 0.545s
 8.  Nelson Panciatici    KMP              1m44.020s  + 0.687s
 9.  Nathanael Berthon    ISR              1m44.043s  + 0.710s
10.  Sten Pentus          EPIC             1m44.075s  + 0.742s
11.  Kevin Korjus         Tech 1           1m44.096s  + 0.763s
12.  Andre Negrao         Draco            1m44.196s  + 0.863s
13.  Lewis Williamson     ISR              1m44.255s  + 0.922s
14.  Arthur Pic           Tech 1           1m44.266s  + 0.933s
15.  Chris van der Drift  Mofaz            1m44.285s  + 0.952s
16.  Stephane Richelmi    Draco            1m44.507s  + 1.174s
17.  Dominic Storey       Pons             1m44.555s  + 1.222s
18.  Daniel Zampieri      Target           1m44.594s  + 1.261s
19.  Oliver Webb          Pons             1m44.623s  + 1.290s
20.  Daniel McKenzie      Comtec           1m44.664s  + 1.331s
21.  Anton Nebylitskiy    KMP              1m44.843s  + 1.510s
22.  Jan Charouz          Gravity-Charouz  1m44.910s  + 1.577s
23.  Sergio Canamasas     Target           1m44.945s  + 1.612s
24.  Brendon Hartley      Gravity-Charouz  1m45.054s  + 1.721s
25.  Daniel de Jong       Comtec           1m45.226s  + 1.893s