Sutil welcomes di Resta challenge
| | |
| --- | --- |
| By Edd Straw and Jonathan Noble | Friday, April 15th 2011, 02:22 GMT |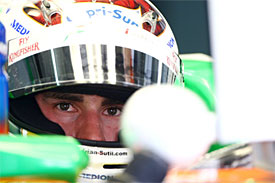 Adrian Sutil insists he is not worried about Force India team-mate Paul di Resta's impressive start to his Formula 1 career.
Di Resta has made a good impression in his first F1 season, becoming only the second rookie since Alain Prost in 1980 to score points in his first two races in the sport.
And although di Resta's strong form has left Sutil under pressure to respond, the German is adamant that going up against someone as strong as di Resta is only a good thing for him.
"There is always pressure in F1," said Sutil when asked by AUTOSPORT about his feeling on di Resta's form. "I want to compete against the best.
"I am not here to compete against drivers that are not able to do a straight line. I need the best competitors. So I am happy if there is a new team-mate.
"It is a new challenge for myself, and I can also learn maybe from a rookie - maybe there is something he can do.
"But he is not a typical rookie for me because he had four years in DTM in a really professional race category, working with a factory team together. So it is not like someone comes out of GP2 or F3, everything is new and they do mistakes.
"Paul is driving very differently, he knows what to do, he knows about pit stop strategies and everything, so it is just a quick car he has compared to a DTM.
"It is nice. I like the challenge and it is early in the season so let's see. Hopefully this weekend without a problem we can have a chase and a push."
Sutil concedes that his career progression is no longer on the ascent thanks to Force India's current form – but he views his current situation like dealing with shares.
"It is like the stock market," he said. "Normally you want to continue when you are, up there, or you want to do the next step – with a team, or stay with the team and still do the next step.
"In a way we did that in 2010. Last year, it was a very good season for me, but then the problem was the last few races, and that is where you want to impress.
"So I could see that the people forgot completely what I did in the first half of the season and that is a little bit difficult.
"In 2009, the last four races, the car was incredibly fast in a few areas and for the people, it was fresh in their minds going through the winter.
"This year you have to remind everyone how it was. Then, you start the season also not too competitive and it goes so quick in F1. So you need to take your chance all the time when you have it."