Da Costa quickest in Barcelona test
| | |
| --- | --- |
| By Pablo Elizalde | Tuesday, April 12th 2011, 16:47 GMT |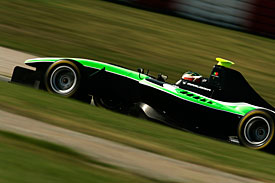 Antonio Felix da Costa set the pace on the opening day of the final pre-season GP3 Series test at the Barcelona circuit.
The Portuguese driver's 1m38.776s - set in the morning session - was enough to keep the Status GP racer just ahead of Nico Muller in the Jenzer Motorsport car and Nigel Melker RSC Mucke machine.
Both men finished less than a tenth of a second behind da Costa.
Da Costa set his time early in the morning, and the rising temperatures at the Spanish track meant his time was not beaten all day.
Two red flags interrupted the morning session, with Carlin's Conor Daly hitting the barrier at Turn 3 and Addax's Thomas Hylkema going off track.
There was just one stoppage in the afternoon, when Michael Christensen made a trip into the gravel trap.
Alexander Sims finished the day fourth overall despite posting the quickest time in the aftenoon, with Valtteri Bottas rounding up the top five in the Lotus ART car.
The test continues tomorrow.
Morning times

Pos Driver                   Team                   Time               Laps
 1. Antonio Felix Da Costa   Status Grand Prix      1m38.776s
 2. Nico Muller              Jenzer Motorsport      1m38.810s   + 0.034  23
 3. Nigel Melker             Rsc Mucke Motorsport   1m38.816s   + 0.040  34
 4. Alexander Sims           Status Grand Prix      1m38.993s   + 0.217  44
 5. Valtteri Bottas          Lotus Art              1m39.245s   + 0.469  25
 6. Adrian Quaife-Hobbs      Marussia Racing        1m39.252s   + 0.476  27
 7. James Calado             Lotus Art              1m39.287s   + 0.511  35
 8. Tom Dillmann             Carlin                 1m39.451s   + 0.675  34
 9. Maxim Zimin              Jenzer Motorsport      1m39.494s   + 0.718  28
10. Lewis Williamson         Mw Arden               1m39.608s   + 0.832  34
11. Aaro Vainio              Tech 1 Racing          1m39.620s   + 0.844  30
12. Pedro Nunes              Lotus Art              1m39.623s   + 0.847  29
13. Michael Christensen      Rsc Mucke Motorsport   1m39.644s   + 0.868  34
14. Rio Haryanto             Marussia Racing        1m39.673s   + 0.897  37
15. Marlon Stockinger        Atech Crs Gp           1m39.688s   + 0.912  30
16. Simon Trummer            Mw Arden               1m39.806s   + 1.030  30
17. Tamas Pal Kiss           Tech 1 Racing          1m39.862s   + 1.086  28
18. Ivan Lukashevich         Status Grand Prix      1m39.867s   + 1.091  39
19. Gabby Chaves             Addax Team             1m39.932s   + 1.156  32
20. Leonardo Cordeiro        Carlin                 1m39.958s   + 1.182  25
21. Nick Yelloly             Atech Crs Gp           1m39.961s   + 1.185  28
22. Daniel Morad             Addax Team             1m40.023s   + 1.247  26
23. Vittorio Ghirelli        Jenzer Motorsport      1m40.206s   + 1.43   28
24. Mitch Evans              Mw Arden               1m40.223s   + 1.447  25
25. Andrea Caldarelli        Tech 1 Racing          1m40.251s   + 1.475  26
26. Matias Laine             Marussia Racing        1m40.423s   + 1.647  23
27. Willi Steindl            Rsc Mucke Motorsport   1m40.468s   + 1.692  34
28. Zoel Amberg              Atech Crs Gp           1m41.070s   + 2.294  17
29. Thomas Hylkema           Addax Team             1m41.627s   + 2.851  36
30. Conor Daly               Carlin                 1m41.745s   + 2.969  12

Afternoon times

Pos Driver                   Team                   Time               Laps
 1. Alexander Sims           Status Grand Prix      1m39.469s            21
 2. Valtteri Bottas          Lotus Art              1m39.573s   + 0.104  31
 3. Adrian Quaife-Hobbs      Marussia Racing        1m39.663s   + 0.194  32
 4. Mitch Evans              Mw Arden               1m39.686s   + 0.217  39
 5. Pedro Nunes              Lotus Art              1m39.709s   + 0.240  26
 6. Lewis Williamson         Mw Arden               1m39.736s   + 0.267  23
 7. Antonio Felix Da Costa   Status Grand Prix      1m39.763s   + 0.294  12
 8. Simon Trummer            Mw Arden               1m39.856s   + 0.387  32
 9. Andrea Caldarelli        Tech 1 Racing          1m39.874s   + 0.405  24
10. Gabby Chaves             Addax Team             1m39.995s   + 0.526  25
11. James Calado             Lotus Art              1m39.997s   + 0.528  34
12. Daniel Morad             Addax Team             1m40.027s   + 0.558  25
13. Nigel Melker             Rsc Mucke Motorsport   1m40.028s   + 0.559  32
14. Aaro Vainio              Tech 1 Racing          1m40.145s   + 0.676  31
15. Tamas Pal Kiss           Tech 1 Racing          1m40.208s   + 0.739  29
16. Michael Christensen      Rsc Mucke Motorsport   1m40.336s   + 0.867  26
17. Ivan Lukashevich         Status Grand Prix      1m40.347s   + 0.878  43
18. Leonardo Cordeiro        Carlin                 1m40.351s   + 0.882  37
19. Marlon Stockinger        Atech Crs Gp           1m40.390s   + 0.921  18
20. Vittorio Ghirelli        Jenzer Motorsport      1m40.397s   + 0.928  34
21. Willi Steindl            Rsc Mucke Motorsport   1m40.466s   + 0.997  32
22. Rio Haryanto             Marussia Racing        1m40.476s   + 1.007  36
23. Nick Yelloly             Atech Crs Gp           1m40.499s   + 1.030  27
24. Maxim Zimin              Jenzer Motorsport      1m40.558s   + 1.089  32
25. Tom Dillmann             Carlin                 1m40.563s   + 1.094  26
26. Matias Laine             Marussia Racing        1m40.684s   + 1.215  34
27. Thomas Hylkema           Addax Team             1m41.059s   + 1.590  35
28. Zoel Amberg              Atech Crs Gp           1m41.067s   + 1.598  21
29. Nico Muller              Jenzer Motorsport      1m41.241s   + 1.772  49
30. Conor Daly               Carlin                 1m48.409s   + 8.940   4

All Timing Unofficial