Ferrari chief predicts 'amazing response'
| | |
| --- | --- |
| By Jonathan Noble | Tuesday, April 12th 2011, 09:04 GMT |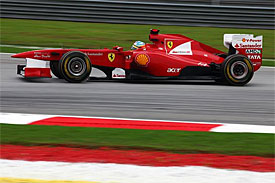 Ferrari president Luca di Montezemolo has full confidence that his team will get to the bottom of its qualifying struggles quick enough to keep itself in the championship hunt.
Although Fernando Alonso and Felipe Massa have been able to match the pace of the front runners in the races, their car has not shown such strong form in qualifying - which leaves them too far down the grid to challenge for the lead on Sundays.
Ferrari's team principal Stefano Domenicali, technical director Aldo Costa and engineering chief Pat Fry have returned to Maranello to conduct an investigation into the situation – with a focus being on why updates added to the car have not produced the downforce that wind-tunnel figures suggest they should.
If the team can unlock the answer to that problem then it believes it can accelerate the introduction of further updates to move itself closer the pace of Red Bull Racing.
Di Montezemolo is sure that his team knows what to do, and that it will soon be able to deliver the full potential from its car.
"I am definitely not satisfied with the way the season has begun, but I have complete faith in the people here who know how to react when the situation is tough," explained di Montezemolo.
"I am sure there will be an amazing response. I know everyone is working flat out and I have great faith in the human and technical strengths of our people. I believe the period when the most we can hope for is a podium will soon come to an end."
Despite his confidence about the longer term future, di Montezemolo believes that the team may well face further difficulties in China – where cooler temperatures could also hurt it.
"I hope we see some improvement, especially in qualifying and to see us be competitive as we were in the [Malaysia] race. But I reckon that will be difficult as I don't think Ferrari can turn it around in the space of a week.
"I know from Domenicali, with whom I have just spoken, that everyone has got their heads down working hard. In the race, I saw Ferrari at the same level as the best and barring a couple of incidents we were definitely heading for the podium.
"I also spoke at length with Alonso for get his impressions of the car and I could tell he was confident in how things went in the race, even if we have a lot of work to do to improve."