Q & A: Meeke on Mini debut
| | |
| --- | --- |
| By David Evans | Monday, April 11th 2011, 13:22 GMT |
Kris Meeke finally gets his big World Rally Championship break this year with the new Mini team, which unveiled its definitive car in Oxford today.
AUTOSPORT spoke to Meeke after the event and got his thoughts on what he hopes will be a breakthrough season.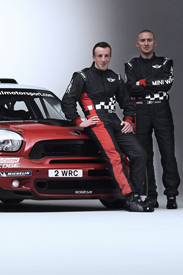 Q. How does it feel to be here?
Kris Meeke: Fantastic. Absolutely fantastic. It's something I have been looking forward to for a very long time. I joined the team last year and have grown with them ever since. I feel privileged to have been part of this, it's very exciting to be part of a factory team in the WRC for the first time.
Q. You have been waiting a while...
KM: I have, but I feel totally ready for this now. I've gained plenty of experience along the way, but right now I feel completely ready to do the job with Prodrive. Like I said, it's hugely exciting to be part of this whole thing. Look at the people here today, it's incredible and there's such a buzz about the whole thing. Mini's back!
Q. Where are you up to with testing?
KM: We had a test two weeks in Spain. We were there for four days and we're back to northern Spain, near Girona next week and a final test in Wales just before we go to Sardinia for the first event. We're busy with testing right up until the last moment.
Q. What are you doing in the tests?
KM: Girona is the test where we should have the definitive engine. The one we're testing now has been called the 98 per cent engine, so two per cent's going not going to be massive, but it's all going to help.
Q. And what do you think of the car so far?
KM: That's the multi-million dollar question, isn't it. It's impossible to know until we get to the stages. I think we can draw some confidence from [Armindo] Araujo's pace in Portugal. The trouble with that is that you're comparing Sebastien Loeb with Araujo, who hasn't really driven at World Rally Car level.
On the last test we did in Spain, Araujo came for the last half hour of Dani's test and sat in the car. They had the rear aero on and he [Araujo] was consistently two seconds per kilometre slower than Dani in the same car. Maybe we're clutching at straws and reading too much into things, but on normal stages in Portugal Araujo was two seconds or 2.1 seconds per kilometre slower [in the Mini S2000] than the frontrunners. On one stage he was down to 1.2 seconds, but that was really slow and technical...
The only thing I will say is that I don't think we're a second per kilometre away and we're not a second per kilometre in front. That's a fair assessment.
Q. What can you do on the first event in Sardinia?
KM: I have to be realistic. Everybody is asking me this question: are you going to be on the pace in Sardinia? Has anybody stepped into a factory World Rally Car and been on the pace straight away? Look at Sebastien Ogier, he was on the verge of being dropped by Citroen after six events.
Q. You must have a target in the back of your mind, though...
KM: If the two cars could finish without problems in the top six, it would be mega. How can I predict more than that? If I had a pound for every time somebody has asked me that, I'd be a millionaire by now - and I'd say I'd be a multi-millionaire by the time we get to the start of Sardinia. We simply don't know.
Q. What's the big thing to learn for you?
KM: I have to learn the rhythm and tempo of driving in the world championship. It's been a while since I was up there. The pace the top five are on is fast and it's going to take me time to adjust. I might surprise myself: I did two rallies in Sardinia last year and I know the area quite well, so I might surprise myself. But I have to treat it with caution. This is a three-year deal for me and I don't have to go and prove everything on the first stage.