Hamilton backed to bounce back
| | |
| --- | --- |
| By Jonathan Noble | Sunday, April 10th 2011, 14:04 GMT |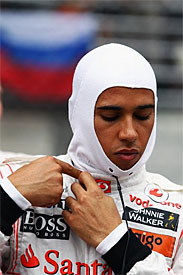 McLaren team principal Martin Whitmarsh says Lewis Hamilton will waste little time dwelling on the disappointment of his Malaysian Grand Prix result.
Hamilton had been bidding to win his first race of the season but fell away in the second half of the race while on the prime tyres. He also got involved in an incident with Fernando Alonso and was punished for weaving - dropping him from seventh on the road to eighth.
Having failed to deliver the kind of result he had hoped for going into the race, Hamilton was disappointed – but Whitmarsh is convinced that the Briton will be in top form heading into the Chinese GP.
"For Lewis a number of things have happened this weekend, but he is strong and will take heart from other positive factors," explained Whitmarsh.
"The underlying fact is he was very close to being on pole, and in the race was able to match the performance of Sebastian (Vettel). He is the marker you either have to match or beat, so those are the positives.
"The result and the mess around it is the disappointment. That's motor racing, and it won't be the last (disappointment) in his career. He was obviously very disappointed at the end of the race, but if you see him now he is smiling and has recovered.
"He'll be further recovered tomorrow. He knows we're going to try hard to win in China, and he'll have his energy focused on that. I don't think he is going to be troubled by what happened today."
Whitmarsh was also not too impressed that the FIA had punished both Fernando Alonso and Lewis Hamilton for driving infringements.
"I'm not a steward. They make those sort of decisions, and that's how it is, but a penalty to both drivers is fairly harsh."