Hamilton, Alonso accept penalties
| | |
| --- | --- |
| By Jonathan Noble | Sunday, April 10th 2011, 13:16 GMT |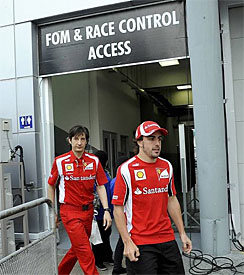 Lewis Hamilton and Fernando Alonso have both accepted the penalties they were handed down by the race stewards at the Malaysian Grand Prix.
Both men were given 20-second time penalties in lieu of drive-throughs for breaching the regulations during their battle for third spot in the closing stages of the Sepang event.
Hamilton was punished for breaching Article 20.2 of the Sporting Regulations - which states that 'manoeuvres liable to hinder other drivers, such as more than one change of direction to defend a position...are not permitted."
Alonso, who had been pursuing Hamilton at the time, broke Article 16.1 of the Sporting Regulation which punishes drivers who cause a collision.
Hamilton got his penalty for his driving on the lap before he got hit by Alonso.
Hamilton said he was not shocked to have been hit with the penalty – which was for changing direction twice on the main straight.
Although Hamilton had escaped punishment for weaving down the straight last year to try and break Vitaly Petrov's tow, the FIA tightened up the driving standards regulations at a meeting of the FIA World Motor Sport Council last December.
"I knew I was going to get a penalty. I'm not surprised," explained Hamilton. "I was in with the stewards, so I anticipated it. I always try to assume the worst-case scenario. It's only one spot, and it's not really made me feel any worse than how the weekend has gone anyway."
Asked whether he felt it was fair, Hamilton said: "It's racing. I'm not going to argue or disagree with the penalty.
"From my side I'm not allowed to move more than once. Do I class it as dangerous? No, but that's the rule. Twenty seconds is not such a bad penalty for it. As for Fernando, he hit me, he got a 20-second penalty, but it didn't really do anything to him. It doesn't exactly work out as a penalty, but again, that's racing."
Alonso also played down the significance of the punishment – especially because his penalty did not result in a loss of position.
"It doesn't change positions, so there is no a big drama," he said. "I finished sixth in the race anyway, and it was a race incident. I tried to overtake, we touched each other and unfortunately I broke the front wing and had to pit again, and I lost the podium possibility. But in the next race I will try again."
When asked if he blamed himself or Hamilton for their collision, Alonso said: "It is one of those things. You try and race and we touched each other.
"The stewards called us to see our opinions and the decision is this. We are not the ones that decide, or have anything to say about the decision. We try to race, to try to enjoy the race in the cockpit and hopefully next time we finish both with no problems."