Vettel celebrates 'perfect' start to '11
| | |
| --- | --- |
| By Jonathan Noble and Pablo Elizalde | Sunday, April 10th 2011, 10:17 GMT |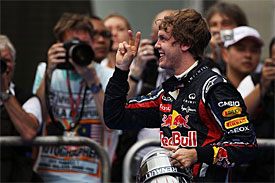 Sebastian Vettel hailed his "perfect" start to the 2011 season after taking his second consecutive win of the year.
The Red Bull driver, the winner in Australia two weeks ago, took another emphatic victory in Sepang, leading from start to finish.
Vettel is already 24 points ahead of his closest rival in the standings.
Now the world champion is aiming to keep his momentum going into next weekend's Chinese Grand Prix.
"I think first of all, we can be happy today and enjoy and try to keep that momentum, take it into next race," said Vettel. "Two races, two out of two. Perfect.
"It could not be any better, but there is a long, long way to go. Lots of points still to get, so we have to keep our feet on the ground.
"Things are looking good and if that is the reward then it's no problem putting harder work in. Tomorrow China starts and we'll see how we get on there."
The Red Bull driver was forced to race without KERS for a significant part of the event after the system hit problems.
But Vettel admitted it had worked well at the start, which he reckons was crucial to stay ahead.
"Obviously it was not according to plan. Then KERS came back, so it was on and off during the race. It is something we have to work on.
"Today the start without KERS we would have been in a different position. It gave us what we needed. We had a little problem so we turned it off and then it went back on.
"Coming here, reacting the way we did, we can be proud of ourselves, we cannot stop pushing, we have seen how close it is, much closer than Australia.
"So we have to keep our heads cool. I am not worried, the guys know this is the only way forward. For today we can all enjoy and then be very proud."
Team boss Christian Horner praised Vettel's drive as "really mature".
"I think he was the coolest guy here today, I mean his composure in the car, the way he controlled the race, looked after the tyres, did what he needed to when he had to," he told the BBC. "We had the option of doing a three-stop or a four-stop and he gave us those options so it was a really mature drive by him today.
"He's just experienced. We forget that he is only 23 years of age, he can only just hire a hire car, so he is in his 60-something grand prix and he is just learning, gaining more experience and just continues to get better. It was also a great recovery by Mark today."